Lockheed Martin is advancing with work on the first F-16V to be built on its new final assembly line in Greenville, South Carolina, and is confident of securing further fresh business for the world's most widely-used fighter.
"We have orders for 128 brand-new F-16s," says Lockheed Martin Aeronautics executive vice-president Greg Ulmer.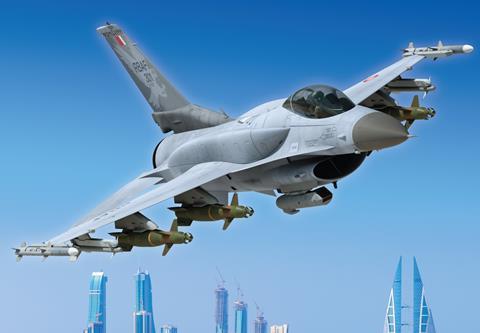 Its buyers for these aircraft are Bahrain (16), Bulgaria (8), Slovakia (14) and Taiwan (66), plus what he describes only as "a fifth FMS [Foreign Military Sales] customer". Cirium fleets data shows this to be Morocco, which has 24 examples on order.
Bahrain will be the first to receive a Greenville-built F-16V, with its lead aircraft due to be transferred in the fourth quarter of 2022.
"We see a market of potentially 300 or more new F-16s," Ulmer says, with this total including the on-order examples. "From a fourth-gen perspective, I think it's the best value – especially when you think about the Block 70/72. It will have an AESA [active electronically scanned array] radar and an updated EW [electronic warfare] system.
"We will take lessons learned from the F-22 and F-35 from the way we fuse and present data. It's going to be a mean machine."
Lockheed in 2017 delivered the last F-16 to be produced at its Fort Worth site in Texas, where assembly capacity is now dedicated to the fifth-generation F-35.
Ulmer describes the F-21 variant being promoted to the Indian air force as a "close cousin" of the F-16V. The service has a pending requirement to acquire 110 new fighters, with expected candidates also including the Boeing F/A-18E/F Super Hornet and F-15EX, Dassault Rafale, Eurofighter Typhoon, RAC MiG-35, Saab Gripen E and Sukhoi Su-35.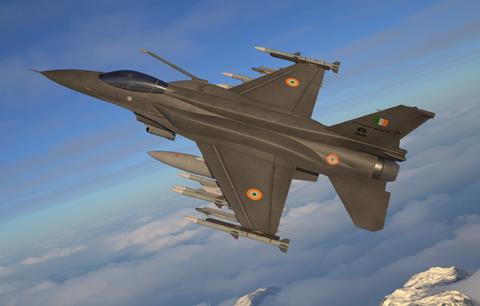 "We meet all of the requirements as we understand them today," he told FlightGlobal at the Dubai air show on 15 November. "We are waiting for formal requirements to come out – we're keen to get them and understand them, and see if we need to do any check and adjust. But we believe we are very well positioned."
Meanwhile, several existing F-16 operators are advancing major upgrades to their inventories, taking them to the V-model configuration. Work is ongoing for South Korea and Taiwan, with the latter approaching the half-way point in a project to modify 141 examples.
Athens also will be modifying its in-service jets. "We flew in a Greek aircraft to Fort Worth, got it modified and it's now at Edwards [AFB, in California], conducting flight-test for that configuration," he says.
Ulmer says the company is also "in the thick of" performing an obsolescence and sustainment update to the United Arab Emirates' 78-strong F-16E/F fleet.
Cirium data prepared for FlightGlobal's World Air Forces directory 2022 shows that there are 2,248 F-16s in combat use with 28 nations, representing 15% of the global combat aircraft fleet. Another 646 are employed as dedicated trainers.
Our new directory will be available for download from 2 December.