Azerbaijan's Silk Way West Airlines has reached an agreement with Rolls-Royce under which the manufacturer will supply replacement engines for the cargo carrier's RB211-powered Boeing 747 fleet.
The agreement – covering the supply of replacement engines for five RB211-powered jets – was unveiled at the Dubai air show.
At the time of Silk Way's decision to order Boeing 777Fs earlier this year, its 747 fleet was listed as comprising 12 aircraft – of which seven were -400Fs.
Analysis of Cirium fleets data indicates that Silk Way West is operating three RB211-powered 747-400Fs.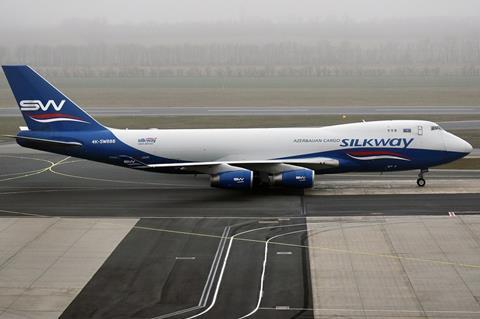 But it also lists Silk Way as the sub-lessor of two other RB211-equipped aircraft operating on behalf of Russia's Sky Gates Airlines. Silk Way has yet to confirm whether these aircraft complete the line-up of five covered in the support deal.
The remainder of Silk Way West's fleet is made up of two more 747-400Fs, both with Pratt & Whitney PW4000 engines, and five 747-8Fs with General Electric GEnx engines.
Silk Way West says the RB211 support pact with Rolls-Royce will "ensure the airlines' operational sustainability" to 2026.
"[The carrier] will be able to successfully realise its business strategy regarding the planned fleet renewal," says Silk Way Group president Zaur Akhundov.
Silk Way West will benefit from a minimum engine life of 20,000 cycles for the next five years.
"Utilising existing engines to provide them with a cost-effective way of maintaining their fleet is an efficient and logical solution to supporting their operations until 2026," says Rolls-Royce civil aerospace chief Chris Cholerton.