Textron Aviation has a trio of EBACE debutants on the static display – a Beechcraft King Air 360 twin-turboprop, Cessna CJ4 Gen II light jet and XLS Gen II super-light aircraft.
In fact, EBACE is the very first show appearance for the revamped XLS Gen II following its announcement at NBAA last year and comes hot on the heels of its achieving US certification earlier this month.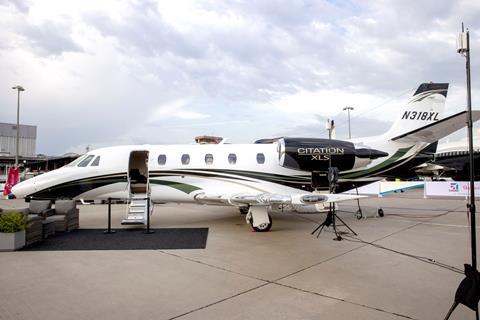 Lannie O'Bannion, senior vice-president of global sales and flight operations, says there has been strong interest in all three models, which have all gained updated interiors. In addition, the King Air has new auto-throttle and auto-pressurisation systems.
"Our focus has been on the cabin to make sure we provide the best possible experience for our customers," he says. "They are things we have been able to change quickly to drive more demand for our products."
Modifications include new seats - including updated tailoring – charging points, and new aft lavatory in the CJ4 Gen II, plus additional features such as extra luggage storage.
These were driven by feedback from the manufacturer's customer advisory board, says O'Bannion.
In addition, Textron Aviation's turbine fleet is certificated to operate on 100% sustainable aviation fuel, which the airframer used to power the ferry flights to Geneva.
European Union Aviation Safety Agency (EASA) approval for the CJ4 Gen II and XLS Gen II is "imminent", says the company. The King Air was validated by EASA in September last year.