French hybrid-electric aircraft developer VoltAero has launched a European fractional ownership programme for its five-seat Cassio 330 and will begin accepting initial expressions of interest in the scheme at EBACE.
VoltAero – led by former Airbus chief technology officer Jean Botti – will subsequently expanded the initiative to cover the follow-on six-seat Cassio 480 and 10-12-seat Cassio 600.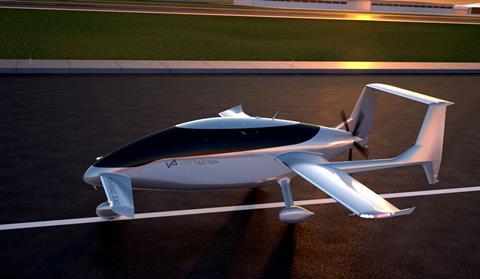 "Cassio will open a new era of highly sustainable air transportation in Europe with on-demand flight services for those who join our fractional share ownership," says Botti.
"It's highly appropriate that we bring this mobility solution to Europe with Cassio – a truly innovative next-generation aircraft that is developed and built in Europe."
Powered by a 330kW parallel hybrid system configured in an aft pusher layout, the Cassio 330 will use the electric motors for taxi, take-off, cruise flight, and landing, while the internal combustion engine serves as a range extender to recharge the batteries during flight, plus as an emergency back-up. Service entry is scheduled for 2024.
The powertrain has been flight tested on the company's Cassio 1 demonstrator, racking up nearly 5,400nm (10,000km).
Certification will be as a European Union Aviation Safety Agency CS23 aircraft.
Ground will be broken this year at a new production facility for the Cassio at Rochefort airport in western France.