Pratt & Whitney swung to a $454 million operating profit in 2021, a year characterised by stronger demand for aftermarket services and new aircraft engines.
P&W sister company Collins Aerospace – both are subsidiaries of Raytheon Technologies – also turned profitable in 2021 amid booming aftermarket sales, Raytheon reports on 25 January.
Connecticut-based P&W shipped 623 large commercial aircraft engines in 2021. That is up 14% from 546 deliveries in 2020 but still lags the 746 large commercial engines P&W shipped in pre-pandemic 2019.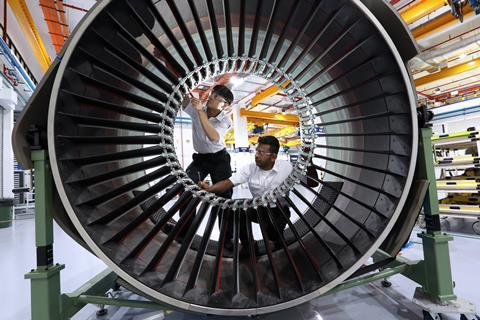 Pratt & Whitney Canada also made strides last year, handing over 1,825 engines, up 11% from the 2020 figure. But deliveries by P&W of military engines declined to 218 in 2021 from 241 in 2020, the company reports.
P&W's adjusted sales of original equipment jumped 32% year-on-year in 2021, while commercial aftermarket sales surged 28%, Raytheon says.
As a result, P&W generated $18.2 billion in sales last year, an 8% improvement from 2020, with 2021 operating profit hitting $454 million. By comparison, P&W lost $564 million in 2020. The company's fourth-quarter 2021 sales hit $5.1 billion, up 15% year-on-year, for a $135 million fourth-quarter operating profit.
Likewise, improving aftermarket demand pushed Collins to operating profits of $461 million in the fourth quarter of last year and $1.8 billion for all of 2021.
Those figures are up significantly from 2020, when Collins earned profits of $11 million in the fourth quarter and $1.5 billion for the full year.
Collins fourth-quarter commercial aftermarket sales jumped 47% year-on-year, but sales of new original equipment inched up 4%.
Collins' sales of commercial original equipment will likely increase in the "high-teens" range year-over-year in 2022, with commercial aftermarket sales increasing "around 20%" year-on-year, says Raytheon chief financial officer Neil Mitchill.