When Emirates finally announces its powerplant selection for the Boeing 787s ordered at last year's Dubai air show, success will be crucial for Rolls-Royce if it is to prove to the industry that its Trent 1000 is not a spent force.
The UK engine manufacturer's image has been tarnished amid the ongoing problems with the Trent variant that powers the 787. Problems with the durability of the Trent 1000's turbine blades have required a redesign and created huge reliability and operational headache for operators.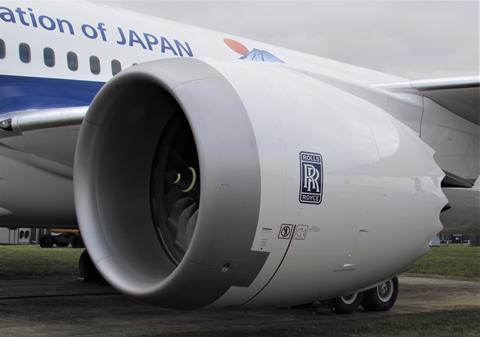 Speaking in November last year, Rolls-Royce chief executive Warren East said that restoring customer confidence in the Trent 1000 was his "top priority". But Derby's Trent woes continued when All Nippon Airways – original launch customer for the Dreamliner and the first adopter of the Trent 1000 –selected the rival GE Aviation GEnx powerplant for a new 787 order batch. The Japanese carrier operates 71 787s, all powered by the Trent, but its new batch of 15 aircraft (plus five options) arriving from fiscal 2022 will have GE power.
ANA has not publically linked the decision to switch engine vendor to the Trent's issues, ascribing the move to supplier diversification: "As the 787 becomes a larger share of our fleet size, we have made the decision to diversify some of the components to minimise single-source risks," it tells FlightGlobal.
Nonetheless, the ANA move is the latest in a worrying trend for Rolls-Royce. Air New Zealand similarly switched to GE for its new batch of 787s last May. Then chief executive Christopher Luxon said of the GE selection: "Clearly as we look at that engine with that fuel efficiency with the 787-10 we just thought it was a great combination. It was a pretty compelling offer from GE as well."
Rolls also lost a Trent customer to GE in 2018 when Hawaiian Air cancelled its order for Airbus A330-800s (where the Trent is the only engine offered) for GEnx powered 787s.
"The All Nippon decision is a significant blow to the Trent 1000 market, as ANA is the largest operator and was the launch customer for the 787 and for the Trent 1000," says Rob Morris, global head of consultancy at Ascend by Cirium.
"It appears to signal that no matter how good a deal Rolls-Royce offers, it is not enough to overcome the operational disruption caused for key customers."
According to Cirium fleets data, the last new customers to choose R-R for their 787s were Lufthansa and Air Premia in March and April last year, respectively. The latter selected the Trent for three 787-9s it is taking from Air Lease, while Lufthansa placed an order for 20 Trent 1000-powered 787-9s.
Although the German flag carrier is a committed Rolls-Royce customer with the Trent powering its A330s and A380s (as well as being sole-source on its A340-600s and A350s), that selection was a crucial win for the UK manufacturer.
Cirium data shows that total 787 orders stand at 1,484 aircraft, with Rolls-Royce accounting for a third. GE has a 61% share, with the remainder yet to be announced.
While the Emirates selection for its Dubai order of 30 787-9s will be a key test, there are complicating factors that might influence the selection. The deal involved a substitution of the 787s for a similar number of GE-powered 777s, which could tip Emirates in Cincinnati's direction. However, officially Emirates has not yet declared its selection.
Morris says that the Emirates 787 engine competition "may be a challenge for Rolls-Royce, given the Trent 900 performance issues on the A380".
He is not optimistic for success at other customers where a selection is outstanding: "We expect the undecided orders of Bamboo (which already leases GEnx-powered 787-9s), Okay Airways, Donghai and Ruili will all go to GE."
So with Emirates likely to be the only big order left where Rolls-Royce could have a chance, failure here would leave it "with a lower than anticipated market share and a significant challenge to rebuild that", says Morris.
Story updated to include comment from All Nippon Airways and details of Air Premia Trent selection. It also previously stated incorrectly that ANA was not a customer for Rolls-Royce's "TotalCare" flight-hours maintenance programme.