Steep losses at Pratt & Whitney and slumping profits at Collins Aerospace pushed parent company Raytheon Technologies to a $3.5 billion loss in 2020.
The losses largely reflect the sharp impact of the pandemic on sales of aftermarket aerospace services and of new aerospace equipment, including aircraft engines.
Raytheon's Pratt & Whitney business lost $546 million in 2020, a notable contrast from the Connecticut company's $426 million profit in 2019. P&W generated $16.8 billion in sales last year, down 20% from 2019.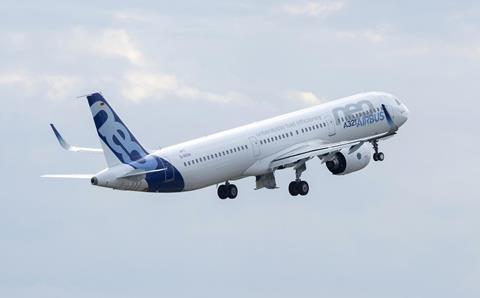 The engine maker in 2020 shipped 546 large commercial engines, which include its line of PW1000G geared turbofans, down 27% year-on-year. Sister company Pratt & Whitney Canada, which makes turboprops, delivered 1,650 engines in 2020, down 30% from 2019.
The declines translated, in the fourth quarter, to a 46% fall in P&W's revenue from sales of equipment. The engine maker's commercial aftermarket revenue slipped 32% year-on-year in the same quarter.
"It's obviously one of the most challenging years for our company, for the commercial aerospace [industry] at large and for everyone around the globe," Raytheon chief executive Greg Hayes says on 26 January.
Raytheon's $3.5 billion loss follows its $5.5 billion profit in 2019. Raytheon Technologies was formed in April 2020 through the merger of Raytheon, primarily a defence company, with the commercial aerospace businesses of Collins Aerospace.
On 26 January, Raytheon discloses it expanded previously announced layoffs. Earlier this year, the company said it would cut 15,000 commercial aerospace staff and another 4,000 commercial aerospace contract workers. It now says those figures have been increased to 16,500 employees – representing 20% of Raytheon's commercial aerospace workforce – and 4,500 contractors.
Collins Aerospace managed to turn a $1.5 billion profit in 2020, though that figure is down 67% from Collins' $4.5 billion 2019 profit.
Collins suffered from the same aftermarket slump as P&W. Its fourth-quarter commercial aftermarket sales declined 48% year-on-year, while Collins sales of new commercial aerospace equipment slipped 41% in the period, Raytheon says.
Raytheon cut $2.4 billion in costs last year and achieved another $4.7 billion in "cash conversation", says Hayes.
"We finished the year with better than expected sales, earnings and free cash flow," he adds.