GE Aviation has continued its profit streak, earning $176 million in the second quarter of 2021 amid revenue gains and a significant bump in orders for new engines.
The results show "early signs of recovering" in General Electric's aviation division, the company says.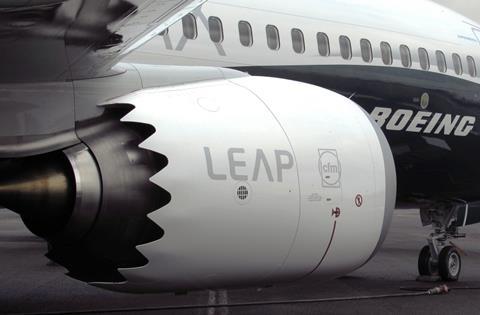 Though second-quarter earnings were down on the $641 million profit in the first three months of the year, they are much better than the $687 million loss recorded in the second quarter of 2020.
GE Aviation generated revenues in the second quarter of $4.8 billion, up 10% year on year. Revenue from commercial engines and services came in at $3.1 billion, up 24% year on year.
In the three months ended 30 June, GE Aviation received new orders for 555 commercial engines, up from 74 in the same period last year.
The second-quarter total includes 438 CFM International Leap-family narrowbody powerplants, up from just 24 Leap orders in the same period of 2020. GE co-owns CFM with Safran Aircraft Engines.
GE Aviation delivered 383 new commercial aviation engines in the second quarter, including 211 Leaps. By comparison, in the same period last year, it shipped 362 commercial engines, including 178 Leaps.
The engine maker expects its engine production rate will increase year on year in the third quarter, though it has not disclosed expected future rates, saying it is "assessing rate readiness across [the] supply chain".
Meanwhile, GE continues working to close, by year-end, the planned sale of its leasing division GE Capital Aviation Services to aircraft lessor AerCap for about $30 billion. From the sale, GE expects to receive $23.9 billion in cash, AerCap shares worth $5.7 billion and another $1 billion in either AerCap notes or cash.