Engine maker Pratt & Whitney has created the new position of chief sustainability officer, and named longtime geared-turbofan (GTF) executive Graham Webb to fill the roll.
The move, which comes days after the US government committed the aviation industry to achieve "net-zero" carbon emissions by 2050, reflects an effort by the Hartford company to better manage its cleaner-technology development work.
The role will involve coordinating P&W's "sustainable propulsion roadmap and strategy", communicating its achievements and working to secure government funding, P&W says on 16 November.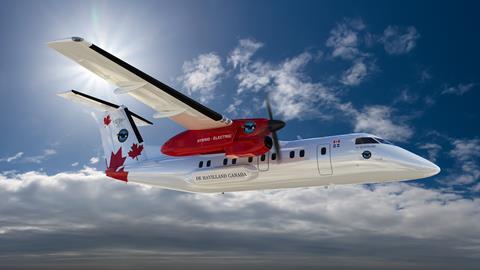 P&W recently landed a NASA contract to develop a more-thermally-efficient core for a future narrowbody aircraft turbofan engine.
As part of that effort, P&W is also developing materials capable of withstanding higher temperatures. Additionally, it is developing a hybrid-electric propulsion system for demonstration on a De Havilland Canada Dash 8-100 turboprop. Flight tests are scheduled for 2024.
Webb had, since 2014, been P&W's vice-president of regional GTF programmes, a role involving oversight of GTF models that power Airbus A220s and Embraer E-Jets E2.
Earlier, Webb was chief engineer at P&W, responsible for GTF development work.