UK engine maker Rolls-Royce has reassured shareholders that its operational and financial performance so far this year is in line with expectations, and highlighted "encouraging" interest in the planned divestiture of Spanish subsidiary ITP Aero.
Large-engine flying hours in January-April were around 40% of their 2019 level, Rolls-Royce says in a trading update. The manufacturer attributes this to cargo flights and continuation of key international routes, and says the current utilisation level is "broadly unchanged from the run-rate at the end of 2020 and consistent with our planning assumptions".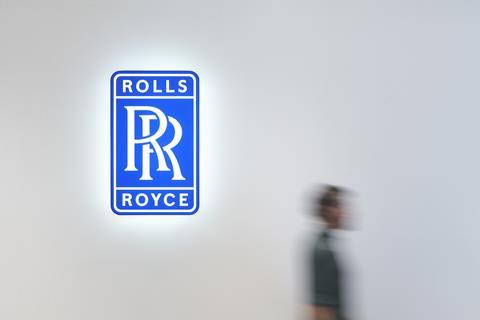 Jefferies Equity Research states that the flying-hour level is "better than we expected", citing 29% and 33% rates during 2020's third quarter and the October-November period, respectively. "The operational data from airlines [during the first quarter of 2021], notably IAG and Lufthansa, gave us no reason to believe things had improved," Jefferies notes.
Rolls-Royce warns that it remains uncertain when international air travel will recover, and that this will depend on further coronavirus vaccination efforts and a testing regime for air passengers. The manufacturer describes vaccination programmes in multiple countries, especially the UK and USA, as "encouraging".
Operationally, Rolls-Royce says it has made "good progress" with the restructuring programme announced a year ago, which is aimed at delivering £1.3 billion ($1.8 billion) in annual cost savings. Chief executive Warren East states: "We are confident that the significant restructuring actions we have taken in 2020 will deliver permanent cost reductions, positioning us well for the rebound in international air travel."
Part of the restructuring programme is the planned sale of Spanish turbine and engine structure manufacturer ITP Aero. Rolls-Royce says the plan is "progressing well… with an encouraging range of interested parties for ITP Aero".
As per previous guidance, Rolls-Royce predicts to generate a positive free cash flow during the second half of 2021. It notes, however, that the guidance "remains sensitive to the timing of [engine flight hour] recovery and the timing of original equipment concession outflows on already delivered widebody engines".
The engine maker will publish its half-year results on 5 August.