A first ground run of Rolls-Royce's UltraFan technology demonstrator is "imminent", according to a senior company executive.
The milestone has been expected for some time, the test asset having been moved in late 2022 into the manufacturer's Testbed 80 facility at its Derby site.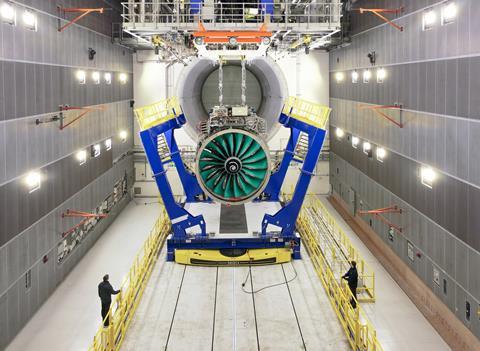 But speaking today at the Clean Aviation Forum in Brussels, Alan Newby, director of aerospace technology and future programmes at Rolls-Royce, said the powerplant is closing on its first run.
"UltraFan will run imminently," he says, without offering a more precise timeframe; "I'll stand by imminent," he adds.
UltraFan is a demonstration programme through which Rolls-Royce hopes to validate a suite of new technologies, including the engine's high-power gearbox, Advance3 core, ALECSys lean-burn combustion system, 140in (355cm) carbon-titanium fan, composite casing, and high-temperature ceramic matrix composite (CMC) materials in the core.
Rolls-Royce says it will be 25% more fuel efficient than the first generation of Trent engines and 10% better than the Trent XWB; non-carbon dioxide emissions will also be significantly lower, adds Newby.
Many of the technologies brought together in UltraFan have been developed through the EU's earlier Clean Sky 1 and 2 programmes and Newby says the engine will form the basis of the Rolls-Royce-led Heaven project under Clean Aviation.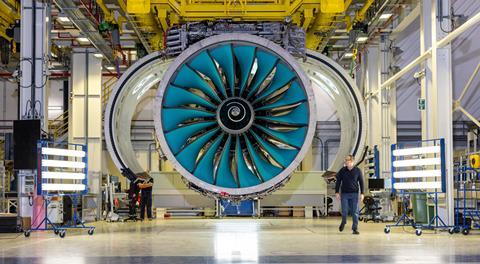 "What we have defined here is the next generation beyond UltraFan where we will start to make it even better as we go forward."
That will include a bypass ratio that rises beyond the demonstrator's current 14:1 figure, greater airframe integration and "micro-hybridisation" to enhance the operation of the turbine.
Newby also points to the "scalable" nature of the UltraFan architecture, making it suitable for both narrow- and widebody applications.
Rolls-Royce has previously said the UltraFan architecture would cover thrust over the 25,000-100,000lbf (111-444kN) range. The demonstrator is sized at around 80,000lb-thrust.
"It's a whole new family starting today with the first engine run; we are already looking to future-proof it," says Newby.

Dominic Perry is deputy editor of Flight International but also contributes extensively to flightglobal.com. Although specialising in the coverage of the helicopter industry, he has written on most topics in aerospace – be they commercial, defence or business aviation. In addition, there has been an increasing focus on the decarbonisation of the industry and zero-emission flight initiatives.
View full Profile