Rolls-Royce has disclosed that the primary impact of the coronavirus crisis on its civil aerospace business has been a reduction in widebody engine flying hours by 25% over the first quarter, including a 50% fall in March.
It expects "further deterioration" during April, and beyond, given the increasing grounding of airline fleets in response to government restrictions and a fall in demand.
While manufacturing output of new widebody engines remained "broadly stable" in the first quarter, because airframers maintained production activity, the company says it is anticipating a reduction in engine delivery and maintenance volumes.
"We are in close communication with our customers and suppliers," adds Rolls-Royce.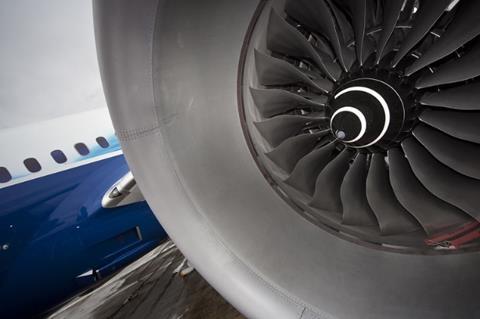 The manufacturer is forecasting a cash-flow benefit of £750 million this year from measures it is taking to cut cash expenditure.
These measures include minimising discretionary spend, through such actions as halting recruitment, suspending non-essential travel, and reducing salary costs by at least 10% across its workforce.
Salaries for senior managers and executives will be cut by 20% for the rest of the year – a 10% reduction and 10% deferral, with bonus deferral for the chief executive and chief financial officer.
"Our priority is to do everything we can to safeguard the lives and livelihoods of our people and to play our part in helping our customers, partners and communities," says chief executive Warren East.
"We are taking significant measures to strengthen the operational and financial resilience of our business."
Rolls-Royce has taken a "precautionary" decision, it says, to enhance its "robust" liquidity position by drawing fully on a £2.5 billion revolving credit facility in March. It has also secured a further £1.5 billion credit facility commitment from a bank consortium.
It says that these measures will increase the company's overall liquidity to £6.7 billion, pointing out that it normally expects a seasonal underlying liquidity low-point in the first quarter.
"The seasonal movement this year is consistent with our original guidance and in line with amounts seen over each of the past few years," it says, adding that the contribution relating to the coronavirus impact is around £300 million.
Rolls-Royce adds that it has a single outstanding debt maturity for 2020, a $500 million bond due for repayment in the second half of the year.
As with other companies, Rolls-Royce has implemented such measures as remote working, enhanced hygiene procedures, modified shift systems, and temporary facility closures as part of the response to the coronavirus situation.