Air Baltic and the wider airline industry will successfully navigate the coronavirus crisis as long as a cautious approach is taken to reinstating services, according to the carrier's chief executive Martin Gauss.
"I am optimistic, because if you go at a slow pace we will work ourselves, our industry out of this crisis," Gauss says during an FIA Connect event today.
"Every crisis has an end," he continues, noting that his optimism comes from "a very low base" as the Latvia-based carrier reinstates its network following a complete grounding of services in March.
Amid that cautious optimism, Gauss expects Air Baltic to catch up with pre-crisis traffic levels in 2022.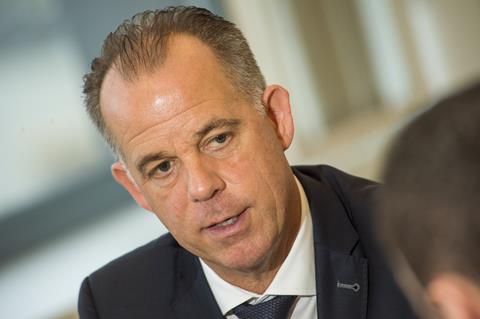 "We will be technically back in 2022," Gauss explains. "If we follow our business plan, we see again the same revenue numbers and passenger numbers."
In between, however, "we will be not doing what we were supposed to do".
Gauss notes the airline has an advantage versus some other carriers as it resumes flights, because it does not fly long-haul routes, where the recovery is expected to be much slower.
"Short-haul within Europe and also rebuilding the hub function in Riga is working at the moment," he states, adding that some business traffic could return by the end of the year, particularly if the virus is kept under control in the region.
The airline is putting one aircraft per week back into operation as it ramps up services, having restarted flights nine weeks ago with four jets, Gauss says.
By the end of this year, he states that the airline will have taken three more Airbus A220s to bring its fleet to 25 of the type.
While the carrier has delayed some A220 deliveries, Gauss still expects that by 2023 the airline should have 50 of the type in service.
Speaking to FlightGlobal in early April, the airline chief outlined the steps Air Baltic had taken in the early days of the crisis, including a decision to become an all-A220 operator three years earlier than originally planned, through the immediate retirement of its Boeing 737s and Dash 8 turboprops.
Air Baltic's pre-crisis fleet numbered 38 aircraft.
The carrier's recovery is being aided by a €250 million ($281 million) government bailout.