Rolls-Royce has confirmed an agreement with Bell to develop a propulsion option for the Bell V-280 Valor tiltrotor, a competitor in the US Army's Future Long-Range Assault Aircraft (FLRAA) programme.
"Rolls-Royce will provide the propulsion solution for the refined V-280 Valor design as well as an advanced infrared suppressor system to deliver greater range and enhanced survivability to the army," says the UK-headquartered engine specialist.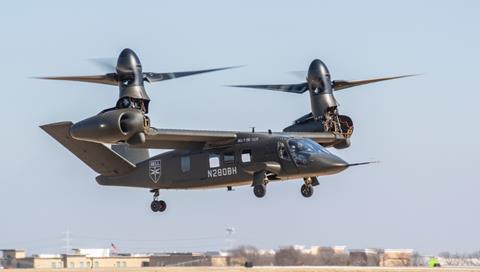 "Through early collaboration on the system from the inlet to the suppressor, Bell and Rolls-Royce will deliver a low-risk and reliable integrated propulsion solution to the army."
In March 2019, Bell said that R-R had agreed to develop a turboshaft option for the developmental aircraft. Its V-280 prototype is powered by a pair of GE Aviation T64-GE-419 engines. Bell added at the time that it would continue to work with GE on the V-280.
R-R has not said when the new powerplant will be delivered for the V-280. In addition, no details of the engine have been provided.
Adam Riddle, R-R's executive vice-president, business development and future programmes, says: "Rolls-Royce is excited to be a part of the Bell V-280 Team Valor to compete in the US Army FLRAA programme."
He notes the company's "wealth" of tiltrotor experience – notably supplying T406 engines for the Bell-Boeing V-22 Osprey – "as well as over 50 years of successful collaboration with Bell".
R-R adds that it has invested $600 million to modernise its facilities in Indianapolis, Indiana, which will help with its FLRAA work.
The V-280's rival in the FLRAA competition is the SB-1 Defiant, a compound co-axial helicopter developed jointly by a Sikorsky-Boeing team.