Airbus will later this decade flight test the open rotor demonstrator engine being developed under CFM International's RISE programme aboard an A380.
RISE – or Revolutionary Innovation for Sustainable Engine – was launched in 2021 with the goal of maturing technologies for a new powerplant to enter service in the mid-2030s that will deliver a 20% fuel saving over current narrowbody engines.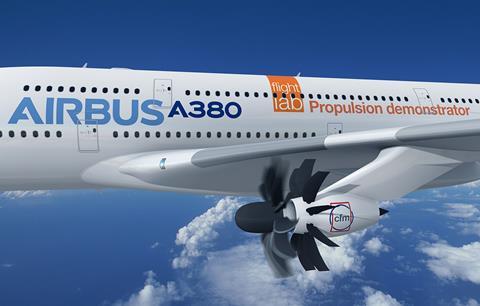 Flight tests using Airbus's 'Flightlab' A380 (MSN1) will be conducted in the second half of the decade from the airframer's facility in Toulouse.
Ahead of that milestone, CFM – a joint venture between GE Aviation and Safran – will perform engine ground tests and flight-test validation at GE's site in Victorville in California.
"New propulsion technologies will play an important role in achieving aviation's net-zero objectives, along with new aircraft designs and sustainable energy sources," says Sabine Klauke, Airbus chief technical officer.
"By evaluating, maturing and validating open fan engine architecture using a dedicated flight-test demonstrator, we are collaboratively making yet another significant contribution to the advancement of technology bricks that will enable us to reach our industry-wide decarbonisation targets."
The partners say the tests will further their understanding of the integration between the wing and engine and aerodynamic performance as well as propulsive system efficiency gains. It will also help validate performance benefits from the open rotor architecture.
"The CFM RISE programme is all about pushing the technology envelope, redefining the art of the possible, and helping to achieve more sustainable long-term growth for our industry," says CFM chief executive Gael Meheust.
Airbus and CFM in February committed to conducting flight tests of a fuselage-mounted GE Passport business jet engine running on liquid hydrogen aboard a modified A380. Images released by the pair show the RISE engine in place of the superjumbo's Rolls-Royce Trent 900.