Angolan flag-carrier TAAG is to introduce Airbus A220s, through an acquisition from US company Air Lease.
TAAG is to take six of the -300 variant of the twinjets to replace Boeing 737-700s.
The A220 is exclusively powered by Pratt & Whitney PW1500G engines.
Air Lease is to deliver the aircraft over the course of 2023-24, the company states.
TAAG chief executive Eduardo Fairen says the agreement is "significant" and represents a "new era and a new vision" for the Luanda-based carrier.
"We are alive, back in business, breaching with the past to achieve greater results and becoming a reference for Africa," he adds.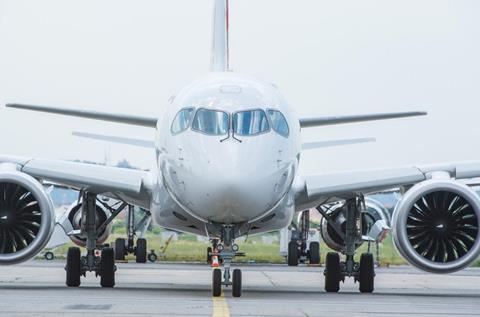 Air Lease says the A220's capabilities will benefit the airline by enhancing operational efficiency and enabling it to expand its route network.
TAAG has seven 737-700s in a fleet which also includes Boeing 777-200s, -300s and De Havilland Dash 8-400 turboprops.
Airbus says the agreement gives the European airframer a new customer in Africa.
Several African operators have previously selected the A220 for fleet modernisation, including Air Tanzania, EgyptAir, Ibom Air and Air Senegal.
TAAG has yet to confirm the configuration of the A220s.
It completed the introduction of six Dash 8-400s after the final airframe arrived in early July. The aircraft is fitted with 74 seats including 10 in the business-class cabin.