Boeing sees global tensions aiding defence spending over the coming decade, as it plans to double down on its digital strategy.
Boeing Defense, Space & Security (BDS) estimates the value of the global defence market at $2.8 trillion over the next decade, of which aircraft expenditure will account for about one-third. The company's market size estimate, however, excludes markets where BDS does not operate, namely China and Russia.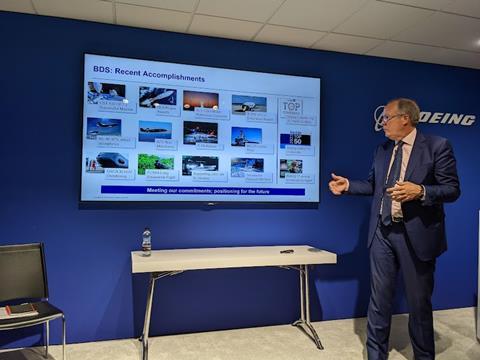 Boeing's market size estimate was disclosed by Rik Geiersbach, vice president of strategy for BDS. It notes that global tensions have increased, while spending on advanced systems is driving market growth. He describes advanced systems as next-generation strike, hypersonics and space.
He attributes growth over the coming decade to the increasingly tense geopolitical environment.
A significant portion of the $2.8 trillion market in the coming decade will come from big production programmes such as the Lockheed Martin F-35 fighter and Northrop Grumman B-21 strategic bomber. Boeing therefore believes it can successfully address 40% of the total market.
Geiersbach also outlined the evolution of the BDS business over the last five years. Before 2016 the unit's business outlook was clouded by an ageing product line, the closure of the C-17 factory, campaign losses (most notably the B-21) and a falling defence backlog.
It was during this time that BDS shifted to a "digital approach", and underwent a strategic rethink that included prioritising markets and campaigns, with the goal of stabilising the business by 2021. In the years after 2017, the company has secured notable campaign wins, such as the T-7A advanced jet trainer for the US Air Force.
On the path forward, BDS is focusing on three areas: increasing digitalisation, innovation, and "disruptive solutions".
"Our strategy really is digitally advanced, simply and efficiently produced, and intelligently supported," says Geiersbach.
This approach informs the company's view of new investments.
"If you're coming to us with an investment across the BDS portfolio, and it's not advancing the game on the digital front, then that's not where you're going to get marginal investment from us," he says.
"I'm not working on getting the range of a product another 50 nautical miles, I am saying look, if this is not going into open system architecture, if it's not going into enabling software, and it's not going into software development, [then] that's not the kind of stuff that we're investing in these days."
He also sees potential for innovation on production lines, describing "multi-product, multi-rate" production lines that can produce several types.
Corrected: A previous version of this story incorrectly stated Geiersbach's title.