Embraer's re-engined E195-E2 twinjet has become the largest aircraft to touch down at London City airport, ahead of steep-approach certification towards the end of this year.
The E195-E2 (PR-ZIQ) carried out the landing on runway 09 shortly before 11:00 on 22 July, having arrived from Farnborough where it had been on display at this week's air show.
It flew in using a 39% blend of sustainable aviation fuel.
While the Airbus A220-100, which operates at London City, has a higher maximum take-off weight than the Embraer jet, the E195-E2 – which can be configured with up to 146 seats – is some 20% longer.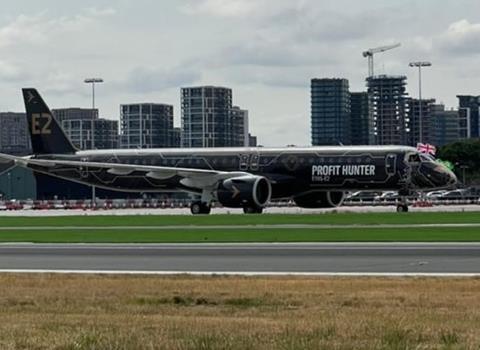 London City is already served by the Embraer E190-E2 which commenced flights to the downtown airport in September last year.
The larger E195-E2's arrival demonstrated its steep-approach capabilities, and the visit will enable ground-handling tests and other preparations and checks to be carried out ahead of eventual commercial operations.
Embraer aircraft account for 85% of all services at London City and the airport "feels like home", says the company's commercial aviation chief, Arjan Meijer.
"It's a great airport," he adds. "Not just because it's fast and efficient for passengers to travel through, but because its unique challenges as an airfield demonstrate the excellent performance of our E-Jets."