Italian carrier ITA Airways expects to receive its first Airbus A220s and A320neos in the fourth quarter, as it continues to ramp-up operations following its October 2021 launch.
The Alitalia successor's chief executive Fabio Lazzerini outlined the carrier's fleet plans during a briefing at the Farnborough air show on 19 July, where an ITA Airbus A350-900 is on the static display.
Lazzerini explains that having started the year with 52 aircraft, ITA expects to end 2022 with 76 in service, boosted by two new types.
The carrier's first four A220s are due to arrive on 1 October – it has both variants of the narrowbody on order – followed by its first A320neo on 1 November.
Having introduced its first A350-900 earlier in 2022, "it's going to be a year with three different entries into service of new aircraft", Lazzerini says.
The airline's A350-900 fleet will rise to six by late July/early August, he adds.
ITA expects to have received 25 A220s by the end of its 2025-2026 business plan, Lazzerini says, "replacing mainly A319s". Alongside the incoming A320neos, the A220s will also replace older A320s.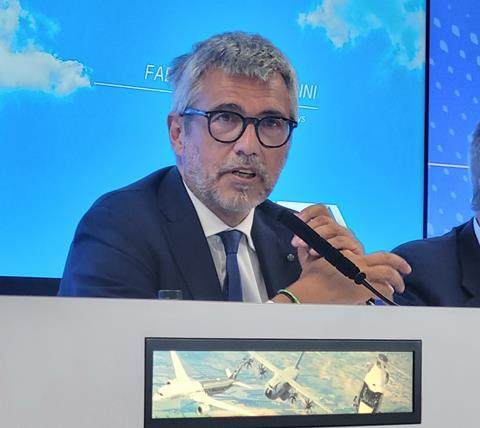 Furthermore, ITA will begin taking its first A330neos in April next year, with its A330ceos due to be phased out "by the end of 2025", according to Lazzerini.
The SkyTeam carrier is updating its fleet as it awaits news on whether a consortium featuring Lufthansa and shipping firm MSC Group, or one containing Air France-KLM, Delta Air Lines and investment firm Certares, will take control of the business.
"The government is analysing the offers and will decide which road to take in the near future," Lazzerini says.
Cirium fleets data suggests ITA has 64 aircraft in service today, comprising 28 A320s, 18 A319s, eight A330-200s, four A350-900s, four Bombardier CRJ1000s and two Embraer E190s.
Cirium lists ITA's outstanding orders as including 23 A320neos, 17 A330-900s, 13 A220-100s, nine A220-300s and nine A321neos.
Lazzerini notes that even though most of its aircraft are Alitalia-branded, ITA is fully committed to establishing its brand on the international stage.
He further clarifies that the Alitalia-branded aircraft still parked at ITA's Rome Fiumicino hub are under the ownership of its predecessor business.