Japanese regional carrier Oriental Air Bridge (ORC) has signed for an ATR 42-600 aircraft for its domestic operations in the Nagasaki and Fukuoka regions.
The airline will begin a fleet renewal with what it calls "the most efficient, affordable and responsible aircraft in the market", it said on 19 July at the Farnborough air show.
"With our ATR 42-600, we are investing in a responsible future in line with our strong commitment to operate in an eco-friendly and sustainable way," says Kazuhito Tanaka, senior managing director and representative director at ORC.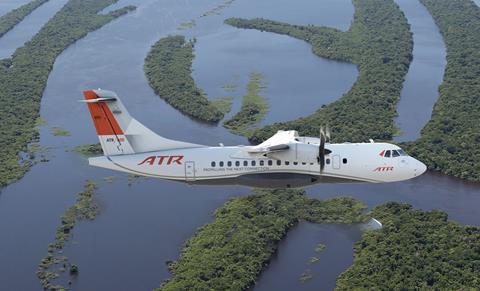 The aircraft will allow the airline to operate to remote islands around Nagasaki Prefecture, he adds.
ATR chief executive officer, Stefano Bortoli, adds "Air routes constitute an essential part of the archipelago's domestic travel and transportation and as such taking a brand new aircraft with optimised support from the manufacturer is the perfect choice."
There are currently 15 ATR aircraft flying across Japan and the planemaker says it sees a potential for 100 in the medium-term. Yesterday start-up Japanese company Feel Air has signed a tentative commitment for 36 ATR turboprops.