Kenyan-based carrier Astral Aviation is set to be an initial operator of Embraer 190 freighters, following cargo conversion from passenger operations.
Lessor Nordic Aviation Capital has already tentatively secured up to 10 conversion slots for the regional jet modification, for delivery from 2024.
The lessor's own fleet of Embraer 190s and 195s will serve as the feedstock.
Astral Aviation chief Sanjeev Gadhia says the converted 190Fs will be based in Nairobi, operating a mix of scheduled and charter flights on the company's African network.
"The E-Jets are well-known for their efficiency, flexibility and sustainability," he says.
"We are confident that the E-Jet freighter platform will be a game-changing addition to our growing fleet."
Embraer unveiled the passenger-to-freighter programme for the family earlier this year.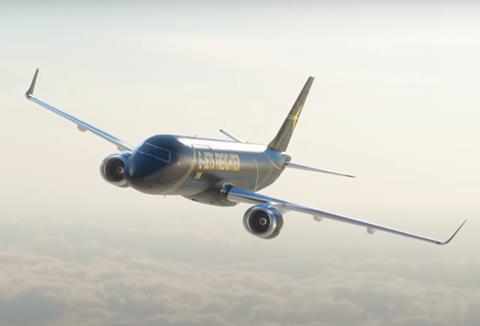 Nordic Aviation Capital chief Norman Liu says the company is the launch lessor of the E-Jet conversion.
Astral Aviation had stated in February, shortly before the E190F programme was revealed, that it planned to be a launch operator of Airbus A320 passenger-to-freighter conversions from ST Engineering.
The aircraft were to be leased from Vaayu Group of the United Arab Emirates.
Vaayu recently said it would sub-lease the initial A320P2F to new Indian cargo operator Pradhaan Air Express, and Astral Aviation has issued a congratulatory message to the airline regarding its operation of the A320 freighter.