LATAM Airlines Group has ordered 17 Airbus A321neos, bringing its total orderbook for the A320 family to 100 aircraft.
Airbus confimed the order at the Farnborough air show on 21 July. It also said the Chile-headquartered carrier "endorses" the long-range A321XLR to "complement [its] long-haul operations",
However, the airframer has not confirmed if part of this A321neo order is for the XLR variant.
Airbus did not immediately respond to a request for more information.
"We applaud LATAM's strategic vision and sustainability ambition," Christian Scherer, Airbus chief commercial officer, says. "This order for the A321neo on the heels of its restructuring is a strong sign of the value Airbus brings to making this vision and ambition a reality.
"The A321XLR will enable the opening of new routes and will allow LATAM to increase its international reach in the region," he adds.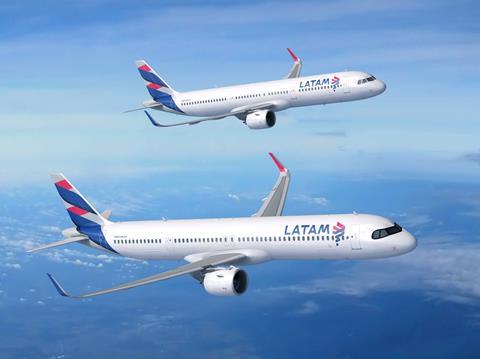 As of end-June, the A320neo family – which entered service in 2016 – had received more than 8,100 orders from over 130 customers, of which nearly 550 have been for the A321XLR, Airbus says.
Airbus has sold more than 1,100 aircraft in Latin America and the Caribbean, with in excess of 700 airframes in operation in the region. That represents 60% market share of the in-service fleet, it adds.
Last month, the US Department of Transportation tentatively approved a proposed joint venture between Delta Air Lines and LATAM, which had been more than two years in the making, but placed certain conditions on final antitrust immunity for the deal. The joint venture, which the companies have been pursuing since mid-2019, was approved by Chilean competition authorities in October 2021.
The approval came just days after LATAM's restructuring plan following its voluntary Chapter 11 bankrutcy protection process secured court approval.
On 18 June, the carrier said the reorganisation plan had been backed by "nearly all" of its creditors, following months of negotiation and mediation which "bore fruit". At the time, LATAM called the approval "a very important step" and says the plan involves injecting about $8 billion into the company.