Polish flag-carrier LOT is aiming to start modernising its short-haul fleet ahead of summer 2024, with Airbus and Embraer pitching for the renewal.
LOT is already expanding its fleet of Embraer E-Jets – which includes all four variants – to 44 aircraft, through a recently-agreed lease.
But chief operating officer Maciej Wilk tells FlightGlobal that the airline has put out a request for proposals to replace the Embraers and its De Havilland Dash 8 turboprops.
He indicates that the total number of aircraft required could be 60 or "maybe even more".
Airbus is looking to offer the A220, but Wilk says the twinjet is a "bit larger" than the aircraft it would be replacing.
He says this "creates challenges to fill" each flight.
LOT will weigh this option against the incumbent Embraer. Wilk indicates that the alternative is the 190-E2, configured with a 112-seat layout.
He says the carrier wants to reach a decision in order to meet demand for summer 2024.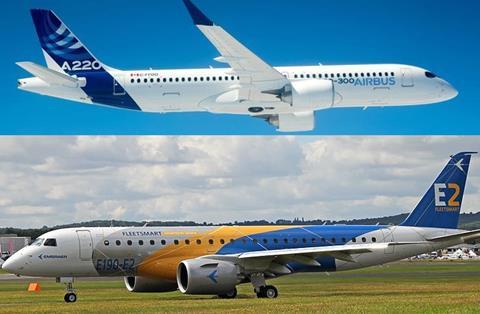 LOT is recovering from the pandemic, he says, currently achieving traffic around 90% of pre-crisis levels.
"It's good, but we need to keep in mind we're in the middle of the peak season," states Wilk.
He hopes the airline will break even this year, adding that he is "optimistic" for the long-term outlook, because the carrier has "very strong fundamentals".
LOT is broadening a pool programme with Embraer, under an agreement signed at the Farnborough air show, to help support its current E-Jet expansion.
Wilk says the increased fleet is "one of the reasons" for the six-year pool deal, extending coverage to 2028.
LOT has been a pool customer since 2012. The revised agreement will cover its 21 E170s and E175s and up to 23 E190s and E195s.
Wilk says the programme has been "paramount" to increasing the airline's fleet availability, "guaranteeing efficiency and competitive results".