Rolls-Royce is gearing up for the first ground run of its UltraFan demonstrator with the engine build nearing completion at the manufacturer's Derby headquarters.
The engine core, low-pressure system – including the distinctive teal-coloured 140in (355cm)-diameter carbon-titantium fan – and fan case have all been integrated, says Andy Geer, Rolls-Royce chief engineer; the UltraFan team are now working to complete the "massively complex" installation of the 2,800 pieces of test instrumentation that will be "embedded" in the engine.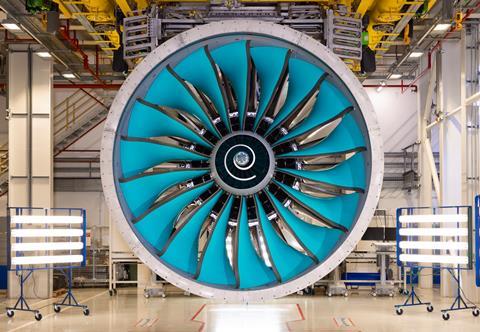 First runs of the 80,000lb-thrust (355kN) powerplant will take place in the second half of 2022 in Rolls-Royce's new £90 million ($107 million) Testbed 80, says Geer. Initial operations will see the UltraFan powered by 100% sustainable aviation fuel.
Featuring a 14:1 bypass ratio and geared architecture, the UltraFan should deliver a 25% fuel-burn reduction against the first generation of Trent engines, and 10% against the latest Trent XWB.
Rolls-Royce is implementing a suite of advanced technologies on the UltraFan, including its Advance3 core, ALECSys lean-burn combustion system, carbon-titanium fan blades and a composite casing, and high-temperature ceramic matrix composite (CMC) in the core. In addition, it uses a record-breaking power gearbox which has run at 64MW.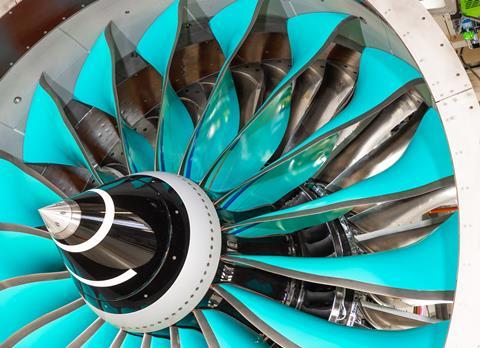 Although the UltraFan could become an engine programme in its own right for narrowbody and widebody applications in the 2030s, Rolls-Royce also sees the opportunity to insert technologies matured in the demonstrator back into its existing powerplant portfolio.
"The easiest thing for us to look at is component technology because it's easiest to take that and put it into an existing architecture. We are probably looking at the hot section – new materials and new manufacturing technologies in the [high-pressure] turbine," says Geer.
"That's where we will start, but there are plenty of others that are candidates: sealing technologies, bearing technologies, the wider application of composites or CMC technologies – other things to come, but we'll start with the hot section."

Dominic Perry is deputy editor of Flight International but also contributes extensively to flightglobal.com. Although specialising in the coverage of the helicopter industry, he has written on most topics in aerospace – be they commercial, defence or business aviation. In addition, there has been an increasing focus on the decarbonisation of the industry and zero-emission flight initiatives.
View full Profile