Start-up Universal Hydrogen has landed an order from a Canadian aircraft lessor to equip 20 regional turboprops with hydrogen propulsion systems.
Universal also says it still plans this year to complete first flight of a De Havilland Aircraft of Canada Dash 8 powered by its hydrogen fuel cell powertrain.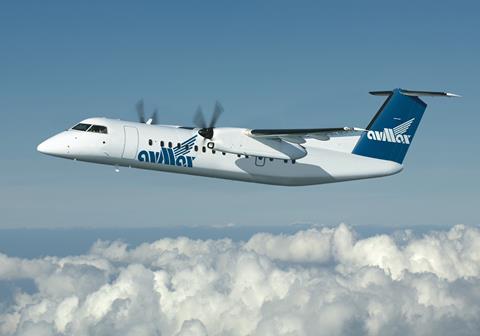 Calgary-based leasing firm Avmax placed the order for 20 conversions, which can be either ATR 72-600s or Dash 8-300s.
California-based Universal will also supply hydrogen fuel for the converted turboprops, it says.
Started by former Airbus and United Technologies executive Paul Eremenko, Universal is among several companies creating novel propulsion systems for Dash 8s and ATRs. But unlike competitors, Universal is taking a broader view by also developing a hydrogen-fuel distribution network.
With the Avmax deal, Universal holds orders and options to sell some 200 ATR and Dash 8 conversions, though the Avmax deal is the first in Canada.
Universal chief commercial officer Rod Williams calls the order notable because Canadian airlines operate more ATR and Dash 8s than carriers in any country. "Canada is the number one market for turboprops globally," says Williams.
Universal is pursuing supplemental type certificates (STCs) for its conversions. It aims to secure its first STC in 2025 and to deliver its first converted aircraft – an ATR – the same year.
Universal has acquired both an ATR and Dash 8 for testing. It plans to kick off flight testing "between now and the end of the year", using the Dash 8 operating from Moses Lake in Washington, says Williams. Once flight testing starts, Williams says the pace of development and testing will accelerate.
Several weeks ago, Universal opened an office in Toulouse, France. The company has secured $85 million in financing, Williams says.