Lockheed Martin and Airbus say that the aerial refuelling boom system for the LMXT strategic tanker aircraft will be manufactured by Airbus in Arkansas.
Introduced in September 2021, the LMXT is Lockheed's offering for the US Air Force's (USAF's) KC-Y strategic tanker programme. The USAF is still in the process of developing requirements and a schedule for the KC-Y programme.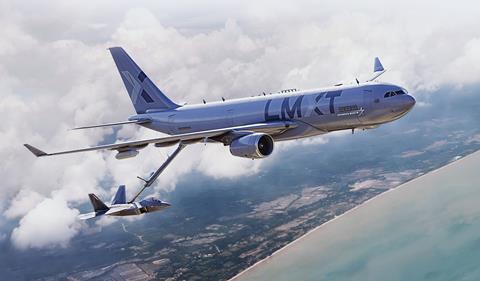 "Like the LMXT airframe, this refuelling system is proven and low-risk, translating to known and added capabilities for the US Air Force," Lockheed chief executive James Taiclet said on 18 May.
The LMXT is built on the Airbus A330 Multi-Role Tanker Transport (MRTT), which is in service in 14 countries. Lockheed previously told FlightGlobal that conversion work for the LMXT will be conducted at facilities in Georgia and Alabama.
Several capabilities were specially designed into the LMXT in order to meet USAF operator requirements. The design incorporates a fly-by-wire aerial refuelling boom and the world's first fully automatic air-to-air refuelling system, which Lockheed says is already certified to refuel USAF aircraft in operations globally.
"The state-of-the-art boom system is a vital aspect of the overall LMXT offering, and we are proud to be working with Arkansans to build this best-in-class solution for the US Air Force," says Airbus Americas chief executive Jeffrey Knittel.
Arkansas governor Asa Hutchins adds: "Arkansas has the tools in place to help high-tech manufacturing succeed, and I'm pleased that Lockheed Martin and Airbus see themselves growing here in our state as they look to the future in the defence industry."
Lockheed's manufacturing presence in Arkansas dates back to 1978. Approximately 1,030 employees in the state work on manufacturing, final assembly, test and storage for Lockheed's missiles and fire control programmes.
Airbus says the LMXT aerial refuelling system work is its first manufacturing opportunity in Arkansas. The company currently builds the A320 and A220 commercial airliners in Alabama, H125 and UH-72 Lakota helicopters in Mississippi, and satellites in Florida.