Airbus Defence & Space chief executive Michael Schoellhorn believes that Lockheed Martin's proposed LMXT tanker is the only aircraft that will meet the US Air Force's (USAF's) nascent KC-Y requirement.
During a media roundtable with journalists at the Singapore Airshow, he was asked whether it made financial sense for the USAF to obtain a new tanker type in addition to the Boeing KC-46. Lockheed's LMXT will be based on the A330 multi-role tanker transport (MRTT).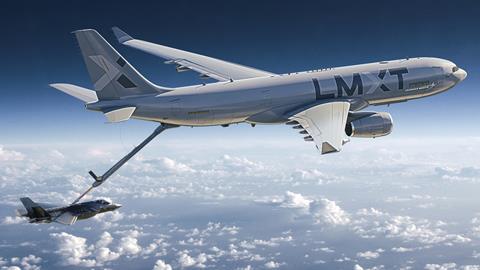 "Cost is always a concern," he says. "If the requirements fit to the KC-46, it would be the smartest decision just to continue with KC-46, but if you look at the needs of the air force in terms of range, in terms of fuel displacement, in terms of fuel offload, and how many air bases you connect to… the KC-46 is limited.
"It cannot accomplish nearly as much as the MRTT can, so then it becomes an apples to oranges kind of thing."
Schoellhorn also touched on differences between the LXMT and current MRTT. One difference is that the USAF appears to have no requirement for the jet to carry cargo or personnel, it is a pure tanker.
Lockheed has said that the LXMT will have 123t (271,000lb) of fuel capacity – 12t more than the MRTT. This is 27t greater than that of the KC-46.
In a Monday media engagement, Leanne Caret, chief executive of Boeing Defense, Space & Security, insisted that the KC-46 is the USAF's best choice for KC-Y, which envisages the acquisition of up to 160 new tankers as a "bridge" to its future 'Advanced Air Refueling Tanker' effort.
Noting that the USAF has yet to announce a formal acquisition, she took issue with the cost of obtaining a second tanker type.
On other differences from the MRTT, Schoellhorn adds that there will be "a lot of small things", as well as "a lot of things that we don't know about that Lockheed will take care of".
Lockheed's proposal involves building the A330-200 in Mobile, Alabama, with military conversion work to be performed in Marietta, Georgia.