Boeing has won a nearly $40 million contract from the US Navy (USN) to supply several dozen anti-surface warfare-sensor systems for use on USN and Australian aircraft.
Under the deal, disclosed by the US Department of Defense (DoD) on 8 June, Boeing will provide 63 Distributed Targeting Processor–Networked (DTP-N) kits and 56 DTP-N A1 kits, which will be split between the USN and the Australian Defence Force. Boeing will also provide cybersecurity data support.
The kits will be outfitted to Boeing F/A-18E/F Super Hornet strike fighters and Boeing EA-18G electronic warfare jets in the USN and Royal Australian Air Force (RAAF), says the DOD. The USN operates 435 Super Hornets, while the RAAF has 23 of the fighters, according to FlightGlobal's 2022 World Air Forces directory.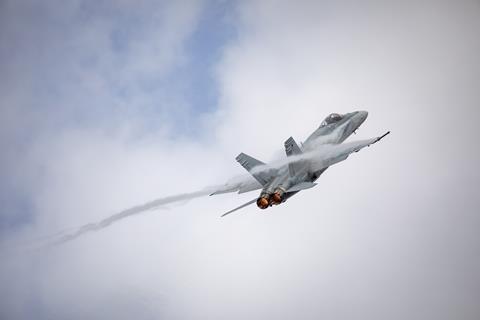 The deal will be funded by more than $20 million out of the USA's fiscal year 2022 budget for the USN aircraft, and with almost $19 million in Foreign Military Sales funds for Australia, the DoD says. The US Naval Air Systems Command (NAVAIR) at NAS Patuxent River, Maryland is the contracting authority.
The DTP-N system is manufactured by Florida-based L3Harris Technologies. The company describes the system as a data- and signal-processing computer that allows real-time communication between onboard and external data systems.
In practice, the DTP-N allows connected systems to collect and share intelligence products, including still imagery and streaming video. The DoD says this will be used to implement the anti-surface warfare capability of F/A-18s and EA-18s.
Work on the DTP-N contract will be performed by Boeing in St Louis, Missouri and is expected to be complete in September 2024.