Airbus Defence & Space has added Burkina Faso as a customer for its C295 medium transport, with the west African nation to receive a single example.
Disclosing the deal on 11 December, the airframer says the procurement for the nation's air force will "reinforce its military transport capabilities". The order has been concluded under the terms of Ouagadougou's 2018-2022 military acquisition law, it adds.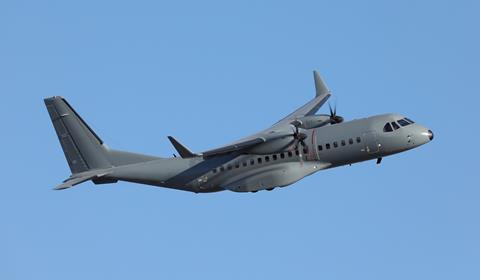 "Together with its affordable maintenance and operational costs, the C295 is the perfect match for the climatic conditions of Burkina Faso," Airbus says. Powered by Pratt & Whitney Canada PW127 turboprops, the type has a maximum payload capacity of around 7t.
Cirium fleets data shows the Burkina Faso air force as currently operating a lone Beechcraft King Air 200 in the transport role, with this airframe aged 31 years.
Airbus has already supplied C295s to the air forces of Algeria, Egypt, Ghana, the Ivory Coast and Mali in Africa, with Equatorial Guinea also having ordered the type.
One C295 is also being operated in support of humanitarian duties by DAC Aviation East Africa, with the asset having flown relief supplies to Mozambique in March 2019. The aircraft is among up to 20 examples being acquired by lessor Stellwagen Finance.