The Canadian government has finalised the first contract in its plan to procure a new fleet of multi-role aerial refuelling aircraft, the government said on 14 July.
The Strategic Tanker Transport Capability (STTC) initiative aims to replace the Royal Canadian Air Force's (RCAF's) fleet of Airbus CC-150 Polaris tankers, which are based on the A310-300 airframe.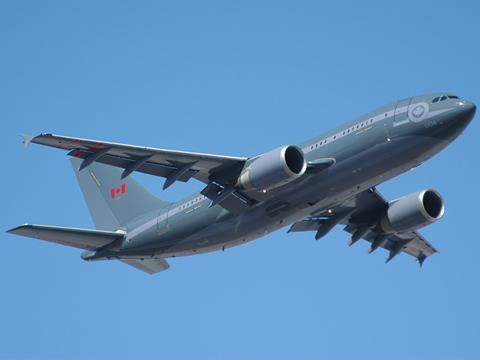 The initial $102 million contract with Dubai lessor International Airfinance covers the procurement and preparation of two used A330-200s, which will be the first two aircraft in the STTC fleet.
"The Government of Canada is committed to providing the Canadian Armed Forces with the equipment they need at the best value for money," says Canadian defence minister Anita Anand. "We look forward to accepting these two aircraft as they represent an important first step in eventually replacing the capability currently provided by the CC-150 Polaris fleet."
The CC-150 has been in service with the RCAF since 1992. The service has five of the tanker aircraft, which are used in conjunction with a fleet of converted Lockheed Martin C-130 Hercules transports to support in-flight refuelling operations.
The government says it currently expects to procure a total Strategic Tanker Transport Capability fleet of six aircraft, including the first two A330-200s.
Airbus will perform military-specified modifications on those aircraft, according to the government, after which they will serve as multi-role aircraft within the STTC fleet for use in air-to-air refuelling missions, strategic airlift, aeromedical evacuations, and VIP transport.
Canada's defence ministry says the STTC programme will support the three pillars of the government's defence strategy: defend Canadians; meet Canada's commitments to North American aerospace defence and NATO; and enable the Canadian Armed Forces to participate in worldwide operations, including international humanitarian relief and domestic emergencies.
The Department of National Defence projects the total cost of the STTC programme to range between $1 billion and $5 billion.