The Canadian Department of National Defence has awarded L3Harris Technologies a firm-fixed price contract of an undisclosed amount to modify three Beechcraft King Air 350ERs into intelligence, surveillance and reconnaissance (ISR) aircraft for the country's special operations forces.
The twin-turboprop aircraft are being bought for the Canadian manned airborne intelligence, surveillance and reconnaissance (CMAISR) project, for which a request for proposal was issued by Ottawa in August. The specially modified King Air 350ER aircraft are to provide ISR support for the Canadian Special Operations Forces Command.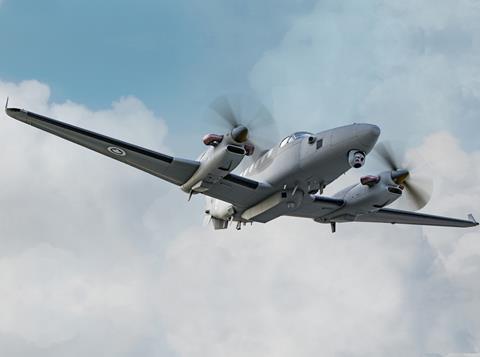 "The aircraft will feature a suite of L3Harris systems, including full-motion video sensors, a mission management system and communication datalinks," says L3Harris. "The capability upgrades offer increased threat indications and warning, as well as high-accuracy target detection and location."
The King Air 350ER is made by Textron Aviation. Textron has partnered with companies such as L3Harris to create several different types of the aircraft for special missions such as ISR and border patrol.
A US Foreign Military Sales approval notice from 2018 said that the CMAISR aircraft would likely carry an L3 Wescam MX-15D electro-optical/infrared sensor, plus laser and missile warning systems and countermeasures dispensers.
The Foreign Military Sale is being handled by the US Army, L3Harris said on 2 November.
L3Harris plans to make aircraft modifications at its facility in Greenville, Texas. The company's facility in Mirabel, Canada, will provide support work.