The US Defense Advanced Research Projects Agency (DARPA) has awarded Calspan Corporation a $14.1 million, four-year contract to retrofit up to four Aero Vodochody L-39 Albatros jet trainers for artificial intelligence-controlled flight experiments.
The jets are to be used in DARPA's Air Combat Evolution (ACE) programme, which aims to improve, as well as measure, human trust in the decision-making abilities of artificial intelligence software, Buffalo, New York-based Calspan said on 8 July. Calspan is a private engineering, research and test service company.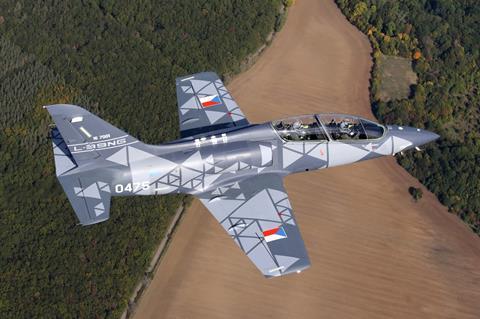 In particular, DARPA's ACE programme aims to develop artificially intelligent software that could fly and win dogfights against enemy combat aircraft. The research agency wants software that is able to handle air-to-air battles so pilots can focus on commanding teams of unmanned air vehicles. These so-called loyal wingman assets, such as the Kratos Defense & Security Solutions XQ-58A Valkyrie being developed by the Air Force Research Laboratory, would be used to overwhelm adversaries.
Calspan is being contracted to modify the L-39s with a proprietary autonomous fly-by-wire flight control system that will allow other companies contracted within the ACE programme to test and demonstrate ideas for new human machine interfaces, such as touchscreen displays, and artificial intelligence algorithms, the company says.
Flight tests and demonstrations with the adapted trainers will be performed from Calspan's flight research facility at the Niagara Falls International airport in New York. The aircraft will be flown in the Misty Military Operating Area over Lake Ontario, the company says.