New Delhi will acquire 83 Hindustan Aeronautics (HAL) Tejas Mk-1A light fighters for the air force at an estimated cost of $5.3 billion, pending cabinet approval.
The acquisition process is moving forward following the finalisation of contractual and other issues by the Defence Acquisition Council (DAC), according to a government statement.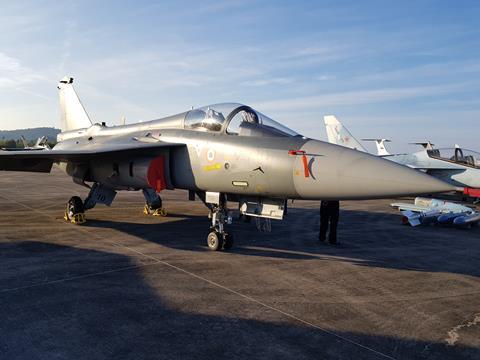 The deal still needs Cabinet Committee on Security (CCS) approval before a formal contract can be signed off. This could take another year.
Deliveries are to begin three years after contract signature, HAL is preparing for a peak production rate of 16 aircraft per year.
The 83-aircraft buy will be broken into two components, with HAL delivering the aircraft in operational configuration. The air force will develop both the base and maintenance infrastructure.
The procurement cost of $5.3 billion covers 73 single-seat Tejas Mk1As and 10 twin-seat trainers in addition to sensors, weapons and associated equipment and spares support from HAL for a period of two years, a company official tells FlightGlobal.
The Tejas Mk-1A will feature an Elta 2052 AESA radar and MBDA's ASRAAM, a Unified Electronic Warfare (EW) Suite, On Board Oxygen Generation System (OBOGS), Upgraded Avionics and Cobham in-flight refuelling (IFR) probe. The cockpit displays will also be upgraded and new indigenous weapons integrated.
HAL had earlier received orders for 40 Tejas aircraft. In 2006 the air force ordered 20 Tejas aircraft in Initial Operational Clearance (IOC) configuration, and in 2010 ordered 20 aircraft in Final Operational Clearance (FOC) configuration.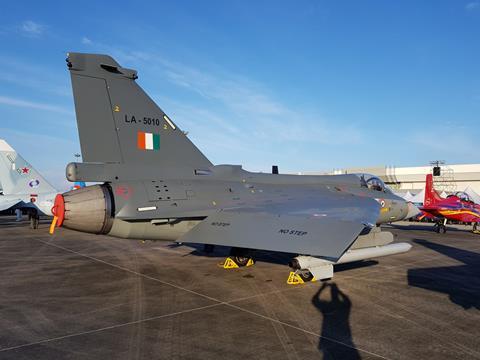 Of these, 14 single-seat Tejas Mk-1s in Initial Operational Clearance (IOC) configuration have been delivered and are operational with No. 45 Sqn 'Flying Daggers' based out of Sulur air force base in South India.
The first Tejas in Final Operational Clearance (FOC) configuration made its maiden flight earlier this week. Three more aircraft are to be delivered in the next few months and HAL plans to complete the order in 2021, the official says. These aircraft will be operated by No 18 Sqn 'Flying Bullets'.
HAL has built a total of 37 Tejas aircraft so far. These comprise two Technology Demonstrators (TD-1, TD-2), six prototypes (PV1 - PV6), eight Limited Series Production aircraft (LSP1 - LSP-8), two Naval Prototypes (NP1, NP2), 16 Initial Operational Clearance (IOC) Tejas MK-1s and 4 Final Operational Clearance (FOC) Tejas MK-1s.