The US Air Force (USAF) retired its first McDonnell Douglas KC-10 Extender in-flight refuelling tanker on 13 July.
The 33-year-old aircraft is the first of 59 Extenders planned for retirement, the service said on 14 July. The USAF is replacing its Cold War fleet of tankers, including Boeing KC-135 Stratotankers, with the Boeing KC-46A Pegasus.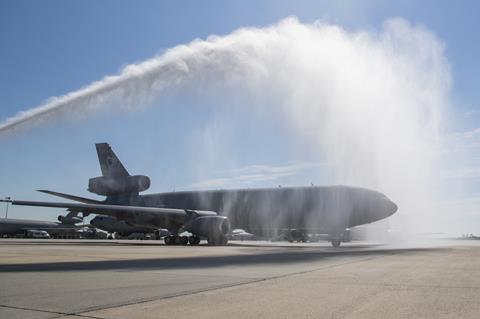 The USAF plans to retire three KC-10s in fiscal year 2020. After a retirement ceremony at Joint Base McGuire-Dix-Lakehurst in New Jersey, the first tanker was flown to a boneyard at Davis-Monthan AFB in Arizona, where it will be scrapped for spare parts.
The service needs spare parts to keep its remaining KC-10 fleet maintained at a high readiness level as it waits for the delayed KC-46A to reach full operational capability.
Boeing's KC-46A has been hobbled by production and design issues, including the need to re-engineer its refuelling boom camera, part of its remote vision system. Those problems have caused losses on the programme of about $4.6 billion. The tanker is not expected to reach full operational capability until 2022 or 2023.
Maintaining a large and available tanker fleet is of the upmost importance to the USAF. To help fighters and bombers reach far-flung potential conflicts with countries like China or Russia, in-flight refuelling is seen as vital.
The USAF says its first-retired KC-10 saw extensive use over its three-decade lifespan. The aircraft registered 33,017 flight hours and refuelled more than 125,000 aircraft from 25 countries, the service says.