The US Department of State has approved a possible Foreign Military Sale of five Boeing P-8A maritime patrol aircraft to Germany for an estimated cost of $1.77 billion.
The US Congress was notified of the possible sale on 12 March, the US Defense Security Cooperation Agency (DSCA).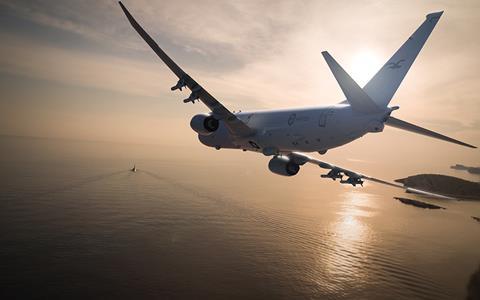 In addition to five P-8A aircraft, Berlin requested tactical open mission software, L3Harris Wescam MX-20HD electro-optical/infrared sensors, Raytheon APY-10 maritime, littoral and overland surveillance radar, Deagel ALQ-240 electronic support measures and BAE Systems ALE-47 countermeasures dispensing systems, among other subsystems, support equipment, maintenance equipment, training devices and spare parts.
"The proposed sale will improve Germany's capability to meet current and future threats by providing critical capabilities to coalition maritime operations. Germany currently operates the Lockheed P-3C Orion, but that aircraft is reaching end-of-life and will retire in 2024," says the DSCA. "Germany plans to replace it with the P-8A Poseidon. The proposed sale will allow Germany to modernise and sustain its maritime surveillance aircraft capability for the next 30 years."
Germany has eight P-3Cs in service, with an average age 37.8 years, according to Cirium fleets data.
The $1.77 billion estimated price is not finalised, as Germany has yet to officially select the aircraft and issue a contract. The estimated amount is typically higher than the final agreed upon price as most countries do not select every available option within a sales package.
In addition to NATO missions, maritime patrol aircraft such as P-8A would likely be used by Germany in tracking Russian surface ships and submarines in the North Sea and Baltic Sea. Russia has important naval bases on the Baltic Sea, including installations in its Kaliningrad enclave and in St Petersburg.
Boeing P-8 customers include the Indian navy, Royal Australian Air Force, Royal New Zealand Air Force, Royal Norwegian Air Force, Republic of Korea Navy, UK Royal Air Force and US Navy.