The Hindustan Aeronautics (HAL) Light Combat Aircraft technology demonstrator has successfully performed an arrested landing on board the aircraft carrier INS Vikramaditya, followed by a maiden ski jump take-off.
The fighter is undergoing additional carrier trials, following which it will return to the Shore Base Test Facility (SBTF) at Goa. The flight represented a historic moment for Indian aviation, being the first time a locally-produced jet has arrested aboard a carrier.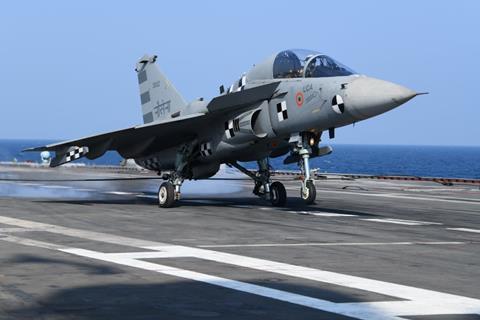 Flight trials from the SBTF Ski-Jump started in December 2014. The first arrested recovery took place nearly five years later in September 2019.
Both LCA Navy Mk1 prototypes are performing the role of technology demonstrators, undertaking carrier suitability trials and demonstrations. This will help with developmental flight testing, validation of important concepts, and facilitate pilot training for carrier operations with indigenously-developed aircraft.
The long delays associated with the LCA Navy programme have resulted in the Navy electing to proceed with an ambitious all new twin-engine carrier-borne based fighter, as against the earlier proposed LCA Navy MkII.
New Delhi has ambitious targets for the twin-engined type with a first flight planned for 2026. Past experience with indigenous aircraft development, however, suggests this schedule could slip.
In addition, there is a separate requirement for 57 twin-engined naval fighters that has received interest from foreign aircraft such as the Boeing F/A-18 E/F and Dassault Rafale. Saab has also proposed a navalised version of the Gripen fighter.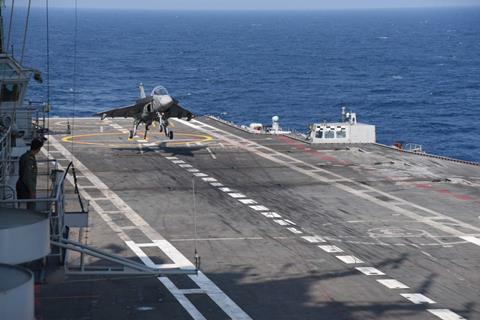 The LCA Navy programme commenced in 2003.
The first prototype NP1 took to the air in April 2012, while NP2 made its maiden flight in February 2015.
The twin-seat NP1 and single-seat NP2 are based on the air force LCA 'Tejas' MkI.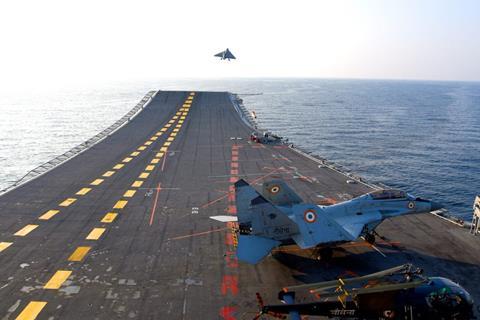 As of 27 December, 2019, LCA prototypes and developmental test aircraft had amassed 4639 developmental flights, but the two Navy prototypes, NP1 and NP2, had completed only 120 and 89 flights respectively.
The Russian-built INS Vikramaditya and India's 2nd aircraft carrier INS Vikrant (under construction in India) are both configured for short take-off but assisted recovery (STOBAR) operations and use a ski-jump to launch aircraft.