Lockheed Martin is defending the value of the F-35 stealth fighter as the US Air Force (USAF) is for the second time in two years considering buying a cheaper fourth-generation fighter for its fleet recapitalisation plans.
Instead of exclusively buying the F-35, as had long been its plan, the service is studying a future fighter fleet that might include new-build Lockheed F-16s or possibly a clean-sheet 4.5th-generation fighter, said USAF chief of staff General Charles Brown on 17 February. The USAF first strayed from its stealth aircraft buying plan in 2020 when it started buying the Boeing F-15EX to replace the F-15C. The F-35's high-operating costs were one reason it was forgone.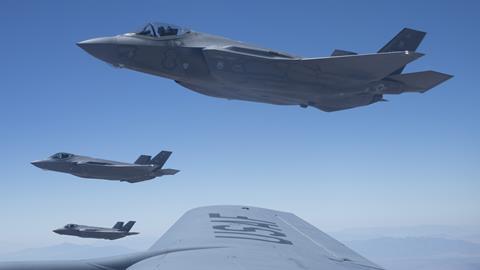 The cost of operating the USAF's F-35A has been cited as high as $44,000 per hour, according to the Department of Defense. The Pentagon's Cost Assessment and Program Evaluation Office and the F-35 Joint Program Office previously have express scepticism that the F-35A's operating costs could be reduced to $25,000 per hour by 2025, which is Lockheed's goal.
Nonetheless, in response to Brown's comments Greg Ulmer, executive vice-president of Lockheed Martin's Aeronautics business area, told reporters on 19 February that the company was still committed to and confident of reducing the cost of flying the F-35 to $25,000 per hour.
"We're very focused on reducing sustainment costs for the F-35. The last five years alone, we've been able to reduce about 40% of the Lockheed Martin element of sustaining cost in terms of cost per flying hour," says Ulmer. "We predict similar 40 to 50% reduction in the next five years. We feel that the F-35 is very strongly positioned relative to the future for the United States Air Force."
Brown said the USAF was examining buying new-build F-16s or a clean-sheet 4.5-generation fighter to handle lower-end threats. Ulmer pushed back on that idea.
"If you look at what the low-end threat that was alluded to, that may drive a thought of lesser platforms," he says. "[However] I think if you fast forward to the next decade, the low-end fight in the future is very much a high-end fight. So, if you look at the proliferation, for example, of S-300 or S-400, or other aspects of things today, it's going to be even more so in the future."
The Russian-built Almaz-Antey S-300 and S-400 surface-to-air missile batteries are often cited as the premier threats to US combat aircraft. For its part, Russian export agency Rosoboronexport has advertised the S-400 as having an "anti-stealth range" of up to 81nm (150km). The S-400 is fielded by Russia, China, Belarus and Turkey. India also has ordered the weapon, but has yet to receive it.
Ulmer also went on to boost the F-35 as a "system of systems", a reference to the aircraft's computer processing and communications abilities.
The F-35 has been compared to a sports car: highly capable, but finicky and expensive to maintain. Lockheed has struggled to reduce the stealth jet's number of identified problems, cutting the number of deficiencies in 2020 by just two, with 871 issues remaining.
The USAF had originally planned to acquire 1,763 F-35As. It has not said that programme of record has been formally reduced. However, each time it buys fourth-generation fighters instead of the F-35 that seems to be implied.
The US Marine Corps also appeared to have reduced its appetite for the short take-off and vertical landing F-35B and carrier-variant F-35C when it revealed plans to reduce squadron sizes in 2020. The service seemed to imply it would cut its plan to buy 420 examples of the F-35 (353 F-35Bs and 67 F35Cs) by 2031 by 120 to 130 aircraft.