Lockheed Martin received its first F-16 fighter in Greenville, South Carolina as part of a 10-year sustainment contract with the US Air Force (USAF).
The fighter arrived at the Lockheed manufacturing facility from Edwards AFB in California on 9 March, the company said on 15 March. Lockheed also manufactures new-build F-16s at its Greenville facility.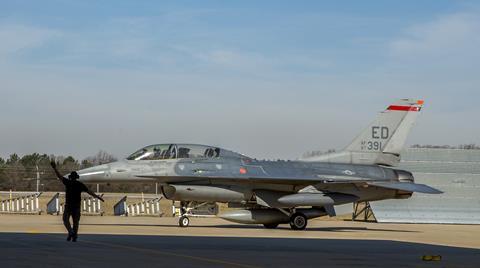 Work on the aircraft is part of a $900 million indefinite delivery and indefinite quantity contract granted last December to provide sustainment support and depot over-flow services for the USAF's fleet of F-16s. The contract also includes "depot-level maintenance activities, predefined programmatic work, aircraft modification and unplanned drop-in maintenance" says Lockheed.
Lockheed is calling its Greenville facility "the first ever US-based F-16 industry depot". Much of the F-16's sustainment had previously been done by USAF personnel.
"As the F-16 Fighting Falcon's original equipment manufacturer, Lockheed Martin is uniquely positioned to provide the most comprehensive knowledge of the aircraft and tailored sustainment solutions to optimise the F-16 fleet for greater capability, readiness and performance," the company says.
Lockheed and other aerospace manufacturers have pushed in recent years to take greater roles in sustaining aircraft. For example, the company has proposed a performance-based logistics contract for the F-35 stealth fighter that it claims would reduce the aircraft's operating costs by allowing it to take greater ownership and control of the jet's sustainment system. The Joint Program Office, which manages the F-35 programme for the USAF, US Navy, US Marine Corps and international customers, is evaluating Lockheed's proposal.