Northrop Grumman plans to develop a "digital twin replica" of its highly-modified Bombardier CRJ700 test-bed aircraft, including of the jet's sub-systems.
The twin, dubbed Digital Shadow, will allow faster development, modification and testing of new technologies, the company says on 23 February.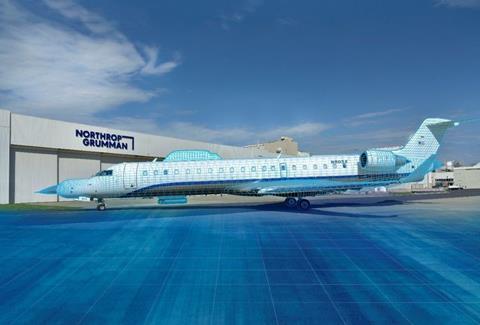 "Our Digital Shadow test-bed will enable the rapid iteration and assessment of various mission systems configurations and trades via digital models across the entire life cycle," says Roshan Roeder, vice-president of airborne multifunction sensors with Northrop Grumman. "Extending the digital thread and developing a digital twin of our test aircraft allows us to rapidly collect valuable data of our mission systems all while reducing cost, schedule and risk."
The digital test-bed could be used to evaluate digital representations of sensors, like fighter radars, in virtual environments that would simulate present and potential future capabilities.
"By creating a digital version of the aircraft and the on-board mission system suites and rapidly reconfiguring and integrating sensors across the spectrum, the company can virtually fly scenarios and sensor combinations beyond the physical test-bed limitations," says Northrop Grumman.
The digital test-bed could also allow rapid software changes to military aerospace technologies in response to new threatening systems fielded by US adversaries, says the company.
Northrop Grumman, like other large aerospace manufacturers, has embraced digital engineering as a means to save money and speed up technology development times. The company says it is accumulating testing data into a "large repository".