US aerospace manufacturer Northrop Grumman will supply a powerful long-range sensor for the US Air Force's (USAF's) fleet of Boeing E-7A Wedgetail airborne early warning and control aircraft.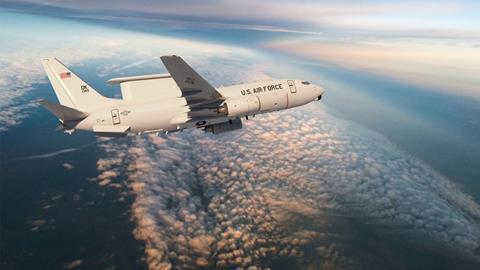 Northrop said on 20 March it will begin production on the Multi-role Electronically Scanned Array (MESA) long-range sensor systems that will equip the USAF's 26 Wedgetail jets.
The "combat proven" MESA sensor, as Northrop describes the platform, will provide long-range sensing, detection and identification sensing capabilities for critical early warning and air battle management.
"The multifunction MESA sensor will provide the [USAF] with critical multi-domain awareness to enable decision superiority for the range of mission requirements today and into the future," says Ed Griebel, vice-president of airborne surveillance programmes for Northrop.
The MESA system is a critical component to the E-7, which the USAF intends to replace its ageing fleet of Boeing E-3 Sentry airborne warning and control aircraft.
"The E-7A will be the [USAF's] principal airborne sensor for detecting, identifying, tracking and reporting all airborne activity to joint force commanders," said the service's acquisition chief Andrew Hunter on 28 February.
Hunter describes the Wedgetail as providing a "precise, real-time air picture" that will enable the USAF to control and direct individual aircraft under a range of environmental and operational conditions.
The E-7 is a derivative of the Boeing 737-700 commercial airliner.
The type was developed by Boeing for the Royal Australian Air Force. It is currently in service with South Korea and Turkey, which each operate four E-7s, alongside Australia's six, according to Cirium data. The UK Royal Air Force has placed an order for three of the jets.
Northrop notes its MESA line is already under active production for the UK fleet.
The USAF currently operates 31 of the Boeing 707-derived E-3s, which it plans to phase out. The service says it plans for production to begin in 2025, with the first E-7A fielded by 2027 and the full 26-aircraft fleet by 2032.