The US Department of Defense (DoD) has awarded $80 million to Spirit AeroSystems and $20 million to GE Aviation for projects meant to shore up the USA's industrial base amid a deepening economic crisis in commercial aviation.
The military sees the support as a means to protect those companies' military aviation manufacturing capabilities, which share resources with firms' declining commercial aviation businesses. The US government views manufacturing capacity as critical to national security.
The Pentagon plans to grant more awards to subsidise companies hurt by declining commercial business, Will Roper, assistant secretary of the US Air Force for acquisition, said on 10 June.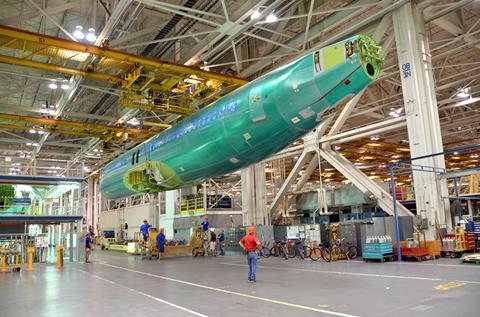 "We're either trying to stabilise a supply [or] ensure that workforces are able to continue working, especially workforces that have [security] clearances," he says. "A lot of the companies don't have a huge cleared workforce. And so, if they're looking at having to do a furlough, we want to make sure that their engineers, their mechanics… [who] have clearances are not under duress; that it's an easy call for that company to keep them working."
The DoD points out that GE Aviation is one of two US suppliers capable of producing large sophisticated combat jet turbines. To partially sustain the company as its commercial engine production plummets, a contract for $20 million was granted on 5 June to add new manufacturing capabilities and to preserve the jobs of more than 100 design and mechanical engineers.
"GE Aviation will expand development in advanced manufacturing techniques, including additive manufacturing, promoting advanced material development and improving digital engineering proficiencies," says the Pentagon. "This will enable GE Aviation to retain critical workforce capabilities throughout the disruption caused by Covid-19 and to sustain engineering positions put at risk by commercial aviation contraction during the pandemic."
For its part, Spirit will receive $80 million to expand its domestic production capabilities and capacities for tooling, composite fabrication and metallic machining, says the DoD.
"Spirit will utilise the funds to build tooling, fabricate composite parts and machine complex metallic parts at its Wichita, Kansas, facility," the company says. That 1.1 million sq m (12 million sq ft) site "focuses on large, complex, soft metal parts for fuselage, pylon and wing structures, all built on high-tech, high-speed, latest-generation equipment".
The company produces parts for several commercial derivative military aircraft, including the Boeing 737-800ERX-based P-8A Poseidon maritime patrol aircraft, the 767-based KC-46A Pegasus in-flight refuelling tanker, and the 737-700C-based C-40 Clipper executive transport.
Spirit was badly hit by the grounding of the 737 Max, for which it makes fuselages, and then by the worldwide decline in airliner demand caused by the coronavirus pandemic. The company has announced more than 4,700 job layoffs and furloughs as a result.
The DoD says it is scrambling to assess its industrial base and shore up weaknesses so that the coronavirus does not leave lasting damage to the USA's ability to manufacture military equipment.
"This has been a full-time job since day one," says Roper. "It's felt like war-time acquisition, where we're fighting to keep our industry base solvent."