The government of New Zealand has approved the purchase of five Lockheed Martin C-130J-30 tactical transports for $1.52 billion.
The first Super Hercules is scheduled to be delivered in 2024, with all five aircraft to be in operation by 2025, says defence minister Ron Mark. The country already operates five C-130H Hercules. It will retire those aircraft gradually.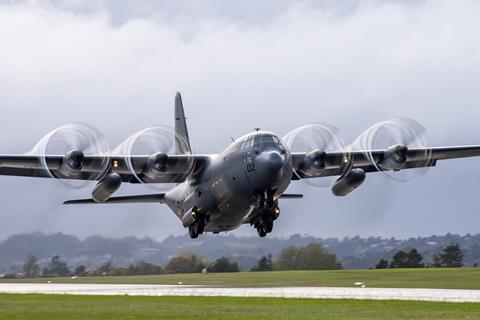 "Last year, cabinet selected these aircraft as the preferred option to replace the current Hercules fleet," says Mark. "Procurement of the Super Hercules has been my highest-capability priority as minister of defence."
The deal for the transports, which went through the USA's Foreign Military Sales programme, will also include a full-mission flight simulator and aircrew and maintainer training.
The aircraft will be outfitted with a wide-bandwidth, high-speed satellite communications system and an electro-optical/infrared camera.
"The satellite communications system will allow imagery, video and data to be streamed in real time, and the camera allows for aerial surveillance, including at the same time as the aircraft is undertaking transport tasks, particularly useful on humanitarian and disaster relief operations, and search and rescue missions," says Mark.
In addition to providing tactical transport of troops and cargo for New Zealand's armed forces, as well as humanitarian relief capacity, the C-130Js will be used to resupply the country's research base in Antarctica.
The new C-130J variant will have a range of 2,400nm (4,445km) – or about 33% farther than Wellington's C-130Hs – when carrying a 15t payload, says the New Zealand defence ministry.