Russia's United Aircraft (UAC) delivered its final batch of Sukhoi Su-57 stealth fighters to the Russian armed forces for 2022.
Imagery posted to social media on 28 December, including messaging app Telegram and the Russian video sharing website VK, shows multiple Su-57s with blurred tail numbers undergoing inspection and taking off from a snowy tarmac.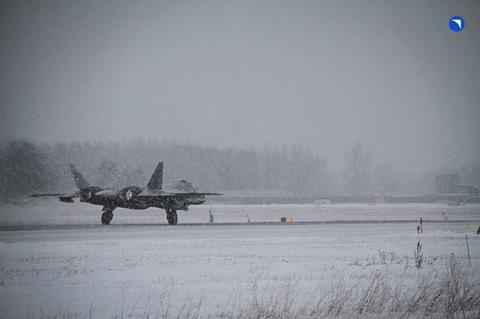 "Our aircraft plant in Komsomolsk-on-Amur has fulfilled this year's programme for the production of fifth-generation Su-57 aviation systems and Su-35S multi-role fighters for the Russian Aerospace Forces," UAC director general Yuri Slyusar says.
"The aircraft scheduled for delivery next year are already in production," he adds.
Russia describes the twin-engined Su-57 as a fifth-generation multi-role fighter, which Moscow says is meant to rival the Lockheed Martin F-35 operated by the USA and its allies in Europe and Asia.
UAC did not disclose how many Su-57s were included in the latest delivery, however the video appears to show four jets. Cirium fleets data lists 75 of the type on order by the Russian air force and one in service.
Speaking at the Army 2022 event in Russia last August, Slyusar revealed four additional Su-57s were being built under a defence ministry contract.
The deliveries were accomplished despite severe economic sanctions levied against Russia by western powers in retaliation for Moscow's invasion of Ukraine. Those trade restrictions have limited the Russian aerospace industry's access to advanced, western-sourced components and financial capital.
Russia's domestically produced Orlan-10 unmanned air vehicle was recently found to contain export-controlled materials from US and European manufacturers.
According to Russian news agency TASS, the Russian air force will have 22 of the stealthy Su-57 in service by late 2024. The total fleet is planned to reach 76 tail numbers by 2028.
UAC has also been developing the prototype Su-75 Checkmate, which the company said 2021 would make its first flight in 2023. However, heavy losses of existing Russian air force jets, combined with economic sanctions, may delay that schedule.
See video of the recently delivered Su-57s here.
Additional reporting by Greg Waldron