Despite the huge disruption caused by the coronavirus pandemic lockdown and the uncertainty of Brexit before it, the UK's ambitious programme to develop a future combat air system remains on target, industry sources say.
Launched during the Farnborough air show in July 2018, the Tempest activity draws together leading UK defence industry players BAE Systems and Rolls-Royce, and the UK arms of Leonardo and MBDA, working in concert with the Ministry of Defence (MoD) and the Royal Air Force's Rapid Capabilities Office. Their current focus is on delivering an outline business case proposal on schedule at the end of this year.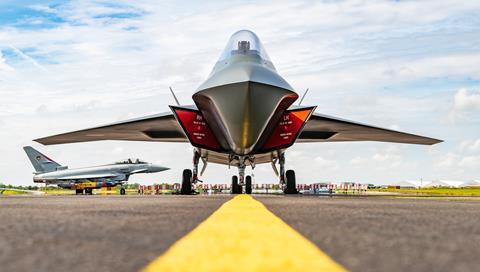 Operating as Team Tempest, this group has since last year also been working with the MoD to advance the planned involvement of international partners Italy and Sweden. A first trilateral meeting between the participating governments took place online in May.
"In line with UK government advice, a significant proportion of our employees are working from home, and we have put in place interim arrangements to ensure our business continues to deliver during these difficult times," says Andrew Kennedy, strategic campaigns director at BAE Systems Air.
"Throughout the lockdown period, we have continued to work in collaboration with the MoD and our Team Tempest partners, and at this point, we have been able to minimise any impact on our work," Kennedy says. "We are confident that any short-term delays can be mitigated as we continue to progress according to the original timescales outlined in 2018 – and ultimately achieving initial operating capability in 2035."
Leonardo deputy managing director UK Alastair Morrison says that only 25-30% of its employees have been on site at any one time during the pandemic. The ability for the bulk of its staff to work from the home throughout the crisis stemmed from previous major technology investments made by the company, he notes.
"We're going forward [and] getting our materials together" in support of the business case submission, he says. "There is a huge amount of activity going on just now."
GRASPING THE NETTLE
Referring to the MoD's continued drive to keep Tempest on schedule despite the pandemic's disruption and economic impact, Morrison says: "It has focused quite a bit of attention, and this kind of thing can be seen as an engine to recovery.
"These things don't come along very often," he says of the broad-ranging Tempest opportunity, adding: "there's a kind of freshness about the programme. We see it as a route to a new generation of revenue, and it's also one of the things that transports the business. It is opportunity and necessity that makes us change. We will not be going back to doing everything business as usual – even when Covid[-19]'s not there."
Kennedy says that despite the near-term challenges posed by the pandemic, "The UK requirement for a world-leading combat air sector, delivering prosperity, military capability and international influence has not changed and, accordingly, we continue to develop the technology, skills and transformational thinking necessary to show how Tempest can deliver this ambition."
Tempest partners on target with year-end business pitch for UK
1

Currently reading

Tempest partners on target with year-end business pitch for UK

2