Officials with the Ukrainian air force say that numerous Russian aircraft were destroyed in a series of mysterious explosions at a military airfield in Crimea on 9 August.
Speaking on 10 August, a spokesperson for the service said the Saki air base located on the disputed Black Sea peninsula was home to Russian Sukhoi Su-30SM fighters, Su-24 ground-attack jets, Ilyushin Il-76 heavy-lift freighters and other military aircraft.
"Su-34, Su-24 aircraft, possibly helicopters, were hit", Yuriy Ihnat of Ukraine's Air Force Command said on 10 August. He spoke on Ukrainian national television.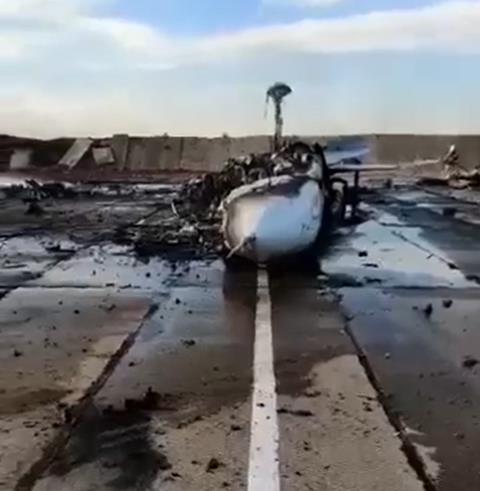 The exact number of aircraft destroyed remains unclear, with estimates of nine or 10 coming from the Ukrainian military and local media. At least one social media video claims to show the wreckage of an Su-24.
Eliot Higgins, founder of European investigative news outlet Bellingcat, posted on Twitter what he claims are satellite photos of the Saki air base taken by the commercial space imagery firm Planet.
The photos appear to show a large burned area and numerous airframes reduced to rubble. Higgins also notes what appear to be craters near the destroyed hulks.
Bellingcat specialises in a technique known as open-source intelligence (OSINT) analysis, using publicly available information to assemble the type of intelligence assessments typically produced by national governments and militaries.
However, authorities in Kyiv stopped short of claiming responsibility for the destruction or even stating that a military attack was the cause.
Russia claims that a lapse in fire safety caused a nearby ammunition depot to ignite, setting off an unspecified number of aviation weapons systems. Moscow denies that any aircraft were damaged in the incident.
Comparison of August 9th and August 10th imagery show very large craters, many destroyed aircraft, and destroyed buildings. It looks like a direct hit on the building on the left, so whatever it was seems accurate. pic.twitter.com/QyLn86PUjw

— Eliot Higgins (@EliotHiggins) August 10, 2022
Numerous videos posted to social media on 9 August show fires and columns of black smoke in the vicinity of the Saki air base. Although both sides in the ongoing war deny that a strike took place, many Russians in the popular vacation destination appeared unconvinced.
Photos and accounts surfaced on social media reporting long lines of cars and traffic delays at the bridge connecting Crimea to mainland Russia. The peninsula was annexed by Russia in 2014, a move that has been declared illegal under international law, and is still considered sovereign Ukrainian territory by Kyiv.
President Volodymyr Zelensky, speaking in a nightly address on 10 August, stated unequivocally that he believes his country should repatriate the territory.
"This Russian war against Ukraine and against all of free Europe began with Crimea and must end with Crimea – its liberation," says Zelensky.
However, Ukraine has not made a military attempt to retake Crimea at any point since its 2014 annexation, even after the larger Russian invasion in February. Moscow says that any such attack would constitute an escalation of the war, which they launched pre-emptively.
International analysts speculate that the explosions may be the work of pro-Ukraine saboteurs, possibly using a loitering munition or commercial drone improvised to carry explosives.
Ukraine is currently preparing an offensive to retake the city of Kherson, which is situated just north of Crimea.