Sierra Nevada Corporation has won a $129 million contract to supply two Sierra Nevada/Embraer A-29 light attack aircraft to the US Air Force (USAF).
The award includes ground support equipment, pilot training, logistic support, aircraft sparing and sustainment, says Sierra Nevada on 3 March.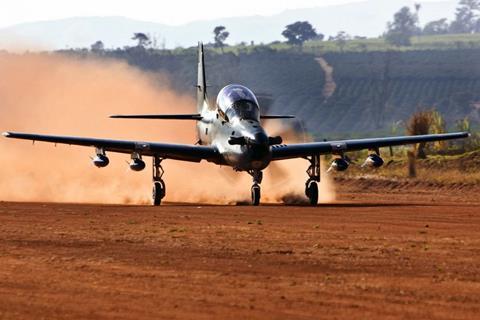 "The US Air Force will now have the opportunity to deploy the A-29 in support of US and allied operations," says Mark Williams, vice-president of aviation strategic plans and programmes for Sierra Nevada's aviation and security business area.
The A-29 is a turboprop light attack aircraft originally designed and built by Embraer. The Brazilian company also builds the aircraft in the USA via its partnership with Sierra Nevada. The arrangement with US-based Sierra Nevada allows the A-29 to be sold to US military services and international customers through the US Foreign Military Sales process.
The latest two-aircraft sale is not connected with the Air Force Special Operations Command's recently announced Armed Overwatch programme, which is a separate initiative, says Sierra Nevada. Rather, the award is to continue the USAF's light attack experiment. The service also plans to buy two or three examples of the Textron Aviation AT-6 light attack aircraft as part of that effort.
The light attack experiment has evolved over several years. Originally, the USAF intended to find a cheap-to-fly ground-attack aircraft. However, recently the initiative morphed into an effort to develop an airborne platform to carry communications equipment that would help allies coordinate air-to-ground attacks with the USA.
That communications kit is called Airborne Extensible Relay Over-Horizon Network, or AERONet. The USAF envisions a system capable of providing video, voice, chat and command and control to partner nations for under $500,000 per unit.
Sierra Nevada says it will begin manufacturing aircraft immediately from its facilities in Jacksonville, Florida, and Centennial, Colorado. The company plans to deliver aircraft in 2021, with training and support activities continuing through 2024.
Correction: This article was changed to include the correct contract amount of $129 million (10 March 2020)