The US Air Force (USAF) is asking for engine proposals for its Boeing F-15EX programme, only a few months after saying it would grant a sole-source award to GE Aviation for 480 F110 jet turbines.
The USAF received pushback on its sole-source plan from Pratt & Whitney (P&W). That company's F100 engine powers the service's fleet of legacy F-15C/D and E fighters.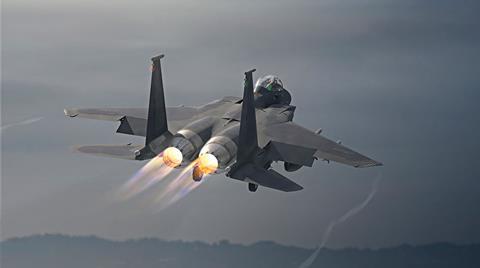 The air force initially planned a sole-source acquisition of GE's F110 because P&W's F100 was reportedly not certified for the EX model, meaning that integration and evaluation of the engine on the fly-by-wire fighter would have slowed acquisitions.
The USAF declared it was pursuing a sole-source contract with GE in January, but formally rescinded that effort on 23 March, according to a notice posted online.
Under its new approach, the service is now asking for competitive bids to supply 461 engines for the F-15EX, according to a request for proposals posted online on 15 May. It wants deliveries to begin by June 2023 and anticipates production would run through 2030.
The F-15EX is to replace the USAF's ageing F-15C/D fighters. In 2019, the USAF decided to buy the fourth-generation F-15EX instead of the more-sophisticated fifth-generation Lockheed Martin F-35s. The service said the Boeing model will have a lower cost per flight hour, might be able to carry lengthy hypersonic missiles under its body and could be quickly adopted by squadrons due to similarities with the outgoing F-15C/D.
The twin-engined F-15EX is a modified version of the "Advanced F-15" that Boeing manufactures for Qatar and Saudi Arabia. That aircraft comes with an enhanced cockpit and sensors, and is not currently part of the USAF's inventory.
The USAF has 239 F-15C/Ds in operation, according to Cirium fleets data. The service has talked about ordering 144 F-15EX aircraft, although the request for 461 engines may mean the scope of the programme has been enlarged. F-15C/Ds that are not replaced by the EX variant could be modernised, the USAF has reportedly said.
With the USAF planning to buy dozens of the aircraft in the coming years, Boeing is using the extended F-15EX production run to pitch the fighter to foreign nations. In February, FlightGlobal reported that the company was thinking of pitching the F-15EX for the Indian air force's requirement for 110 fighters.