The US Air Force is looking to rent four to eight jet trainers to perfect its training regime and further refine capabilities needed on the winner of the T-X trainer contest, the Boeing T-7A Red Hawk.
The service's Air Combat Command (ACC) plans to contract Hillwood Aviation to provide the Korea Aerospace Industries/Lockheed Martin T-50A trainer, according to a sole-source notice posted online in January. The sole-source award is being protested by Mission System Solutions which is offering the Leonardo M-346 jet trainer, however.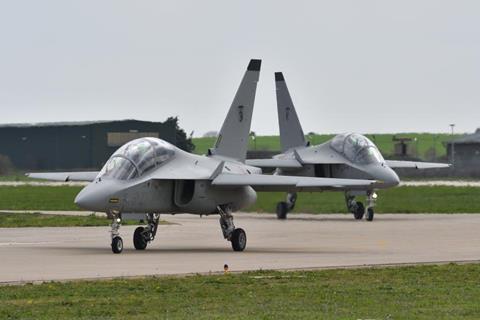 Both aircraft were put forward for the USAF T-X contest by their manufacturers, but lost to Boeing's T-7A. There is no indication Boeing's T-7A contract, which may include up to up to 351 units, is being replaced.
The initiative is called Reforge Proof of Concept. That is in reference to another USAF idea called Rebuilding the Forge, which intends to speed up the pace of fighter pilot training using the Boeing T-7A.
"The [concept of operations] deliberately develops and experiences fighter aviators with relevant tactical skills prior to their fighter's Formal Training Unit," says the sole-source award.
Formal Training Units are later-stage training groups for new pilots within operational fighter squadrons. The units are intended to educate aviators on the advanced fourth-and fifth-generation aircraft they will be flying, such as the Lockheed Martin F-22, Lockheed Martin F-35, Lockheed Martin F-16 and Boeing F-15.
Because the T-7A is an advanced aircraft, the ACC wants to see if it can complete more training earlier to relieve workload on operational squadrons.
To prove the concept and make last-minute alterations to the configuration of the Boeing T-7As, it plans to conduct a five-year experiment with advanced trainers. The rented jet trainers would provide approximately 3,000 sorties and 4,500 flight hours annually.
Boeing's T-7A is still in the final stages of development and testing, so it is not yet available for the experiment. The first T-7A is not scheduled to arrive at Joint Base San Antonio-Randolph, Texas, until 2023.
The concept also can't be proved with the USAF's current jet trainer, the Northrop T-38 Talon, says David Nichols, chief executive of Mission System Solutions.
"In terms of sensor and information management, that T-38 doesn't come anywhere close," he says. "In order to really move into an operational squadron and to be productive, you've got to learn how to use the system and manage the information in a high-G environment. And, the T-38 was never designed for that. It is well past its time."
The ACC has given few details about why it wants the T-50 via a sole-source contract, but has said it wants an aircraft with "active-radar capable of detecting a fighter-sized target no later than [17.8nm (37km)] or the ability to install one without lapse or disruption of service within one year".
It also wants an "embedded synthetic training system or the ability to install one without lapse or disruption of service within one year." And, an aircraft with the "ability to achieve closure rates of at least 1,100kt (2,040km/h) when conducting in-unit air-to-air training."