The US Air Force (USAF) is requesting information for modifications to the US Navy's (USN) Advanced Anti-Radiation Guided Missile-Extended Range (AARGM-ER) programme that would make that weapon suitable for its Lockheed Martin F-35A Lightning II stealth fighter.
The so-called Stand-in Attack Weapon (SiAW) would "heavily leverage" the Northrop Grumman-manufactured AARGM-ER, according to a request for information posted online on 9 January. The AARGM-ER is to be integrated on the USN's Boeing F/A-18E/F Super Hornet and Boeing EA-18G Growler aircraft, as well as the internal carriage on the F-35C variant.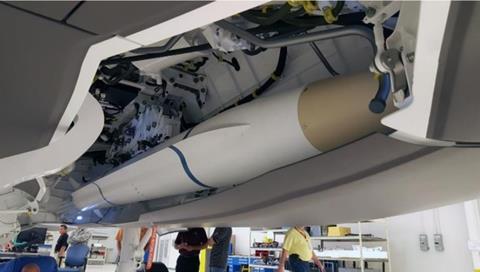 "The SiAW modifications will make the weapon relevant for fifth-generation aircraft and include the development and integration of a warhead and fuze capable of prosecuting an expanded target set, an active radar homing guidance system and a universal armament interface message set for the SiAW missile and F-35A aircraft," says the USAF in its notice. "SiAW will also seek development of future advanced capabilities to keep it relevant for evolving threats."
The USAF says it is conducting market research for potential vendors to provide the modifications.
Anti-radiation missiles are used to hone in and target radar-guided surface-to-air missile launchers, as well as ballistic missile and cruise missile launchers, GPS jammers and other air-defense sensors on the ground. Such applications are called Suppression or Destruction of Enemy Air Defenses, which are known also as SEAD or DEAD missions.
Taking out surface-to-air missile sites is an important early step in controlling the skies above a battlefield. In addition to destroying enemy aircraft, eliminating ground-based air defences allows combat aircraft to go after threats to ground troops or move closer to other targets, reducing the need to use long-range missiles.
In March 2019, Northrop Grumman received a $323 million contract for engineering and manufacturing development work for the USN's AARGM-ER weapon.