The US Navy (USN) has started final tests of two systems competing to win the service's Next Generation Jammer Low Band (NGL-LB) competition, which aims to develop a jammer for Boeing EA-18G Growlers.
Tests of systems developed by L3Harris and Northrop Grumman are part of that programme's Demonstration of Existing Technologies phase. They are planned to run through summer at NAS Patuxent River in Maryland, the US Naval Air Systems Command (NAVAIR) said on 18 May.
The final period signals an approaching end of the 20-month competition.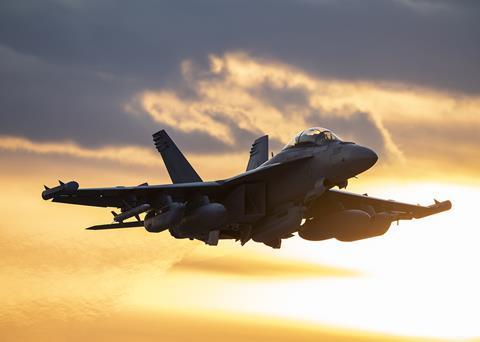 Two Demonstration of Existing Technologies contracts were awarded in October 2018, one to L3Harris and the other to Northrop. Each company's low-band jammer has since completed "significant test events", says NGJ-LB deputy programme manager Leon Smith.
The NGJ-LB is housed inside a pod and carried under an aircraft's centreline or wing. It is intended to disrupt, deny, degrade and deceive enemy air defences, such as radar-guided surface-to-air missiles, as well as ground-based communication systems that operate on lower radio frequencies, says the USN. It is a partial replacement to the ALQ-99 Tactical Jamming System currently used on the EA-18G electronic attack aircraft.
NAVAIR also plans to field two other jammers: a mid-band and a high-band system. The technologies are being developed in order of importance, with the mid-band system scheduled to reach to initial operating capability first, in fiscal year 2022. The low-band system will come second, and the high-band technology last. The development competition for the high-band system has not yet started.
Raytheon won an earlier competition to develop the ALQ-249 Next Generation Jammer Mid-Band. The system was scheduled to enter flight testing this spring.